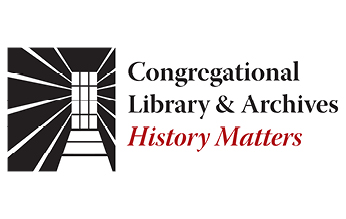 Job Search: Executive Director – Congregational Library & Archives
Applications due May 2, 2022
About CLA
The Congregational Library & Archives (CLA) fosters deeper understanding of the spiritual, intellectual, cultural, and civic dimensions of the Congregational story and its ongoing relevance by collecting and sharing materials and by actively engaging with faith communities, scholars, and the general public. To carry out this mission, the CLA preserves and makes available materials pertaining to Congregationalism, the history of which has been interwoven with the development of the United States since the seventeenth century. The CLA's library and archives holds a rich collection of historical materials, 225,000 archival and published items, which have significance not only for church history, but also for social and political history, and genealogy. It shares them freely by facilitating research and offering programs designed to explain the nature of the Congregational tradition, helping to illuminate our society's past and to inform the present. In the last two decades it has acquired, digitized, and transcribed early New England records in collaboration with an array of churches, historical societies, universities, and cultural institutions.
In the two years before the COVID pandemic, the CLA embarked on a significant transition, selling its building, conducting a capital campaign, and renovating its facilities, now leased from the building owner. A staff of five currently operates the library and archives with an annual budget of $1.9 million. After a two-year period of limited public access to its facilities due to COVID, the CLA now seeks to build on its expert staff, its extensive holdings, and its fascinating history to make itself valuable and accessible for the twenty-first century. It now seeks a new leader to guide its exciting transformation into a widely known and connected cultural institution contributing vitally to the nation's intellectual life.
Opportunities
The Director will have the chance to lead and execute strategic planning, enhance the team, and fashion a successful, sustainable operating mode. This includes the hiring of a development director to support fundraising, a position which has been budgeted for. The essential foundation is in place to give an inspiring, skilled executive the opportunity to make the CLA a contributor to our current public discourse: a rich collection of national importance, dedicated staff, a committed Board of Directors, the financial flexibility provided by a substantial endowment, and an attractive Boston location. With the 400th anniversary of Boston's founding on the horizon, the CLA has its place among the important scholarly and cultural institutions in New England and the nation, with a potentially international reach.
Challenges
The CLA needs to refine its direction and retool to build the enthusiasm, participation, and financial support necessary to pursue that direction. The Board requires guidance as it tailors itself to meet the demands of today's culture. The organization lost focus on its constituencies and partners recently as it coped with the sale of its building, the effects of the pandemic and ineffective executive leadership. The new Director can anticipate the following interwoven challenges:
Defining a sustainable business model and the steps toward realizing it.
Raising funds to support operational rebuilding and growth.
Restoring relationships with critical constituents and partners and building new ones.
Creating and promoting a renewed public presence.
Expanding the capabilities of the staff, especially in the areas of fundraising, communications, and programming.
Helping the Board add new talent and adopt best practices, supporting the executive actively in relationship-building and fundraising.
Widening our audience.
Candidate Profile
The successful candidate will be a motivated, ambitious person with a record of effective leadership in a nonprofit, scholarly, or cultural organization. Outgoing and sociable, the Director will relish renewing and establishing connections among and beyond the CLA's traditional stakeholders. The Director will be an experienced, skilled fundraiser. Respect and enthusiasm for scholarship, American history, and the Congregational story is essential; expertise in any of these is valuable, but not required. A high regard for the value of research libraries and the challenge of defining the role of such institutions in a digital world is essential, but experience working in one is not required. This person will need to be focused on management, external partners, and donors. The new leader will have a record of strong, collegial working relationships with a governing board and staff.
Key Responsibilities
Collaborate productively with the Board and staff to forge consensus around strategic and operational plans which link CLA activities to funding sources and key constituencies.
Play a central role in raising funds from individuals, foundations, and government grants to support operations.
Manage human and financial resources wisely to achieve agreed-upon goals.
Ensure effective public relations and communications to support a positive profile for the CLA.
Oversee development of engaging programs that expand the CLA's audience.
Qualifications
Proven skills as a manager of people and operations in a nonprofit setting. A good morale builder.
A record of successful fundraising: capital, major gifts, sponsorships, and grants.
Strong oral and written communications skills.
Ability to convey enthusiasm for and commitment to research libraries, the Congregational tradition, history, and related public programming to all current and potential constituents.
B.A. required. M.A. in public history, nonprofit management, or a similar field preferred.
At least three years of successful experience leading a humanities organization (or a department within one) with significant supervisory and financial responsibility.
Comfort in working with faith communities.
How to Apply
Apply in confidence: Email cover letter, resumé or CV, salary requirement and names of 3 references and your professional relationship, with contact information by May 2, 2022, to:
Scott Stevens, Senior Search Consultant, Museum Search & Reference at: SearchandRef@museum-search.com.
References will not be contacted without prior permission of the applicant.