Monthly Updates on Recent Books in the History of Christianity
To raise awareness of recent books in the history of Christianity, the editorial staff of Church History: Studies in Christianity and Culture highlights each month a list of 10-15 books in diverse periods and geographical regions that we hope will be of interest to our members.  We include here below the 36th monthly list, chosen by our staff, with excerpts from the publishers' blurbs.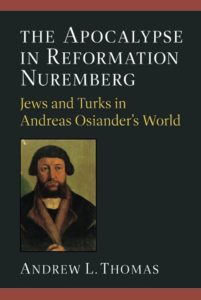 Andrew L. Thomas, The Apocalypse in Reformation Nuremberg: Jews and Turks in Andreas Osiander's World. 2022
Lutheran preacher and theologian Andreas Osiander (1498–1552) played a critical role in spreading the Lutheran Reformation in sixteenth-century Nuremberg. Besides being the most influential ecclesiastical leader in a prominent German city, Osiander was also a well-known scholar of Hebrew. He composed what is considered to be the first printed treatise by a Christian defending Jews against blood libel. Despite Osiander's importance, however, he remains surprisingly understudied. The Apocalypse in Reformation Nuremberg: Jews and Turks in Andreas Osiander's World is the first book in any language to concentrate on his attitudes toward both Jews and Turks, and it does so within the dynamic interplay between his apocalyptic thought and lived reality in shaping Lutheran identity. Likewise, it presents the first published English translation of Osiander's famous treatise on blood libel. Osiander's writings on Jews and Turks that shaped Lutherans' identity from cradle to grave in Nuremberg also provide a valuable mirror to reflect on the historical antecedents to modern antisemitism and Islamophobia and thus elucidate how the related stereotypes and prejudices are both perpetuated and overcome.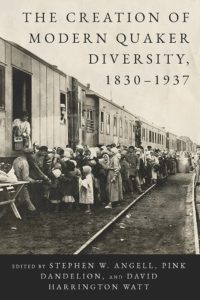 Stephen W. Angell, Pink Dandelion, and David Harrington Watt, eds. The Creation of Modern Quaker Diversity, 1830-1937. 2023
Pennsylvania State University Press
The period from 1830 to 1937 was transformative for modern Quakerism. Practitioners made significant contributions to world culture, from their heavy involvement in the abolitionist and women's rights movements and creation of thriving communities of Friends in the Global South to the large-scale post–World War I humanitarian relief efforts of the American Friends Service Committee and Friends Service Council in Britain.
The Creation of Modern Quaker Diversity, 1830–1937 explores these developments and the impact they had on the Quaker religion and on the broader world. Chapters examine the changes taking place within the denomination at the time, including separations, particularly in the United States, that resulted in the establishment of distinct branches, and a series of all-Quaker conferences in the early twentieth century that set the agenda for Quakerism.
Written by the leading experts in the field, this engaging narrative and penetrating analysis is the authoritative account of this period of Quaker history. It will appeal to scholars and lay Quaker readers alike and is an essential volume for meeting libraries.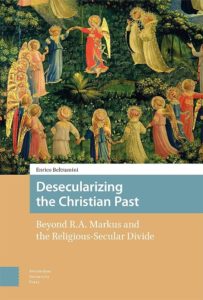 Enrico Beltramini, Desecularizing the Christian Past: Beyond R.A. Markus and the Religious-Secular Divide. 2023
The essential objective of this study is to unpack the complicity between historians and secularization theory in the study of late ancient and early medieval Christianity—and then suggest a way out. In this work of historiography of religion, Enrico Beltramini argues that religious history is inherently secular and produces distorted representations of the Christian past. He suggests moving from an epistemological to a hermeneutical approach so that the supernatural worldview of the Christian past can be addressed on its own terms. This work also engages Markus's saeculum and replaces Markus's secularized relationship between the Kingdom and the government of the civitas with the Augustinian association of the Kingdom and divine government.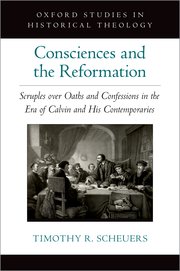 Timothy R. Scheuers, Consciences and the Reformation: Scruples over Oaths and Confessions in the Era of Calvin and His Contemporaries. 2023
This book examines the contentious relationship between oath-taking, confessional subscription, and the binding of the conscience in reforms led by John Calvin. Calvin and his closest Reformed colleagues routinely distinguished what they believed were impious rules and constitutions in the Roman Church--human traditions claiming to bind the consciences of the faithful by putting them in fear of losing their salvation--and legitimate church observances, such as oaths and formal subscription to Reformed confessional standards. Doctrinal and moral reform in the cities became difficult, however, when friends and foes alike accused Calvin and his partners of burdening consciences with extra-Scriptural statements of faith composed by human authorities--a claim that, if true, would necessarily shape our assessment of the integrity of Calvin's Reformation.
In light of these conflicts, author Timothy R. Scheuers offers a close reading of the texts and controversies surrounding Calvin's struggle for reform. In particular, he shows how they reveal the unique challenges Calvin and his colleagues encountered as they attempted to employ oath-swearing and formal confession of faith in order to consolidate the reformation of church and society. This book demonstrates how oaths and vows were used to shape confessional identity, secure social order, forge community, and promote faithfulness in public and private contracts. It also illustrates the complex and difficult task of protecting the individual conscience as Calvin sought to bring his new take on Christian freedom into Reformed communities.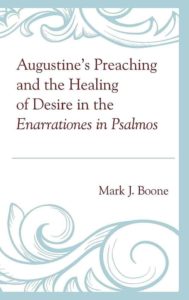 Mark J. Boone, Augustine's Preaching and the Healing of Desire in the Enarrationes in Psalmos. 2023
The Enarrationes in Psalmos is the collection of Augustine's commentaries and sermons on the Psalms. Although Augustine is often at his philosophical best here, bearing various resemblances to the Platonists and other philosophers, he also articulates a distinctively Christian view on what we should desire, on how desire has gone wrong, and on how it is healed. The renewal of desire takes place as a result of and through the unity of Christ and the church, which is the guiding theme of the Enarrationes. Augustine's Preaching and the Healing of Desire in the Enarrationes in Psalmos traces this theology of desire as it connects to Augustine's Christology, his ecclesiology, his account of happiness and well-being, and his eschatology. The book closes with some suggestions on what the church can learn today from the Enarrationes in the areas of psychology and wellbeing, biblical exegesis, and homiletics.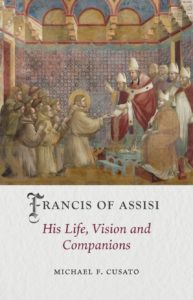 Michael F. Cusato, Francis of Assisi: His Life, Vision and Companions. 2023
This book is an accessible biography of Francis of Assisi, founder of the Franciscan religious order and one of the most venerated figures in Christianity. In it, Michael F. Cusato explores how Francis and his early brothers embraced a life of poverty in solidarity with the lowest ranks of society, preaching a message of justice and dignity for all. He examines how and why Francis's vision ultimately expanded to embrace non-Christians and Muslims in particular following Francis's celebrated encounter with the Sultan al-Malik al-Kamil in 1219. Finally, Cusato considers the clash between Francis and newer members of his Order, his reception of the stigmata, and his final years defending his vision among his own brothers, all while living as an exemplar of the gospel life.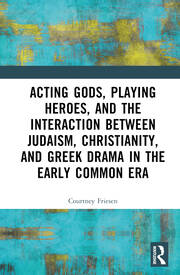 Courtney J.P. Friesen, Acting Gods, Playing Heroes, and the Interaction between Judaism, Christianity, and Greek Drama in the Early Cormmon Era. 2023
While many ancient Jewish and Christian leaders voiced opposition to Greek and Roman theater, this volume demonstrates that by the time the public performance of classical drama ceased at the end of antiquity the ideals of Jews and Christians had already been shaped by it in profound and lasting ways.
Readers are invited to explore how gods and heroes famous from Greek drama animated the imaginations of ancient individuals and communities as they articulated and reinvented their religious visions for a new era. In this study, Friesen demonstrates that Greek theater's influence is evident within Jewish and Christian intellectual formulations, narrative constructions, and practices of ritual and liturgy. Through a series of interrelated case studies, the book examines how particular plays, through texts and performances, scenes, images, and heroic personae, retained appeal for Jewish and Christian communities across antiquity. The volume takes an interdisciplinary approach involving classical, Jewish, and Christian studies, and brings together these separate avenues of scholarship to produce fresh insights and a reevaluation of theatrical drama in relation to ancient Judaism and Christianity.
Acting Gods, Playing Heroes, and the Interaction between Judaism, Christianity, and Greek Drama in the Early Common Era allows students and scholars of the diverse and evolving religious landscapes of antiquity to gain fresh perspectives on the interplay between the gods and heroes—both human and divine—of Greeks and Romans, Jews and Christians as they were staged in drama and depicted in literature.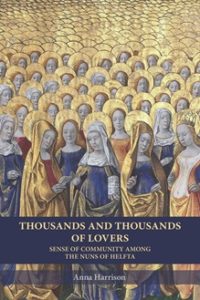 Anna Harrison, Thousands and Thousands of Lovers: Sense of Community among the Nuns of Helfta. 2022
Thousands and Thousands of Lovers examines the spiritual significance of community to the Cistercian nuns of Helfta—a concern that lies at the heart of the monastery's literature. Focusing on a woefully understudied resource and the largest body of female-authored writings in the thirteenth century, this book offers insight into the religious preoccupations of a theologically expert and intellectually vibrant cloister to reveal a subtle interplay between communal practice and private piety, other-directed attention, and inward-religious impulse. It considers the nuns' attitudes toward community among themselves and with their household members as well as with souls in purgatory and the saints.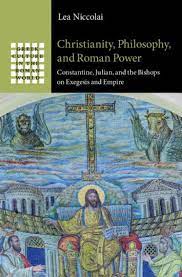 Lea Niccolai, Christianity, Philosophy, and Roman Power: Constantine, Julian, and the Bishops on Exegesis and Empire. 2023
This book rethinks the Christianisation of the late Roman empire as a crisis of knowledge, pointing to competitive cultural re-assessment as a major driving force in the making of the Constantinian and post-Constantinian state. Emperor Julian's writings are re-assessed as key to accessing the rise and consolidation of a Christian politics of interpretation that relied on exegesis as a self-legitimising device to secure control over Roman history via claims to Christianity's control of paideia. This reconstruction infuses Julian's reaction with contextual significance. His literary and political project emerges as a response to contemporary reconfigurations of Christian hermeneutics as controlling the meaning of Rome's culture and history. At the same time, understanding Julian as a participant in a larger debate re-qualifies all fourth-century political and episcopal discourse as a long knock-on effect reacting to the imperial mobilisation of Christian debates over the link between power and culture.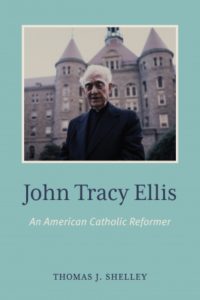 Thomas J. Shelley, John Tracy Ellis: An American Catholic Reformer. 2023
Catholic University of America Press
For several decades prior to his death in October 1992, Monsignor John Tracy Ellis was the most prominent historian of American Catholicism. His bibliography lists 395 published works, including seventeen books, most famously, American Catholics and the Intellectual Life, a scathing indictment of the mediocrity of Catholic higher education and a clarion call for American Catholics to make a greater contribution to American intellectual life. Ellis's ecumenically-minded scholarship led to his election in 1969 as the President of both the American Catholic Historical Association and the predominantly Protestant American Society of Church History.
As a professor at the Catholic University of America, Ellis trained numerous graduate students, who made their own contributions to American Catholic history, and he also furthered the careers of several talented young church historians. Especially in his later years, during the polarized atmosphere that followed Vatican II, Ellis became an outspoken but balanced advocate of reform in the Church, urging greater transparency and honesty, collegiality on the diocesan level, a role for the laity in the selection of bishops, reassessment of church teaching on birth control, decentralization to provide an enhanced role for the local churches, and an eloquent defense of religious freedom and the American Catholic commitment to separation of church and state.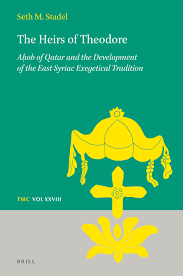 Seth M. Stadel, The Heirs of Theodore: Aḥob of Qatar and the Development of the East Syriac Exegetical Tradition. 2023
In The Heirs of Theodore Seth M. Stadel examines Aḥob of Qatar, a late 6th-century East Syriac biblical commentator, and his surviving Old Testament exegetical works. He further investigates what can be deduced of Aḥob's influence on the later East Syriac exegetical tradition, and he details the originality of Aḥob's exegesis, especially in comparison with earlier and contemporary Greek and Syriac sources. By presenting the first annotated edition, English translation, and study of Aḥob's extant Old Testament exegetical works, Stadel is able to show that Aḥob represents a distinct voice within the East Syriac exegetical tradition.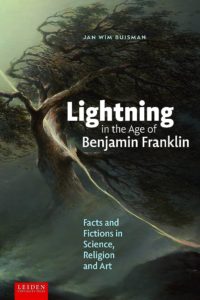 Jan Wim Buisman, Lightning in the Age of Benjamin Franklin: Facts and Fictions in Science, Religion, and Art. Translated by Lee Preedy. 2023
Thunder and lightning have been seen from time immemorial as God's instruments of punishment. Until the invention of the lightning rod by Benjamin Franklin in 1752. In Lightning in the Age of Benjamin Franklin. Facts and Fictions in Science, Religion, and Art Jan Wim Buisman shows how the Enlightenment and Romanticism have changed our scientific, religious and artistic image of natural violence forever. In the eighteenth century, thunderstorms are experienced less and less as a threat and more and more as something extraordinary. The image of God and the image of nature changed radically. The religion of enlightened people, for example, was more determined by joy than by fear. And nature was almost experienced as a girlfriend. That had significant consequences because those who no longer had to be afraid of the thunderstorm could play with it without hesitation. That's what poets, painters and musicians did to their heart's content. Never before the beauty of the storm was depicted as much in the western culture as during the transition from the Enlightenment to Romanticism.
Finally, for staying up-to-date on the latest titles in all fields, we recommend regularly perusing New Books Network and its "New Books in Christian Studies" page. These pages are updated regularly.