Monthly Updates on Recent Books in the History of Christianity
To raise awareness of recent books in the history of Christianity, the editorial staff of Church History: Studies in Christianity and Culture highlights each month a list of 10-15 books in diverse periods and geographical regions that we hope will be of interest to our members.  We include here below the 26th monthly list, chosen by our staff, with excerpts from the publishers' blurbs.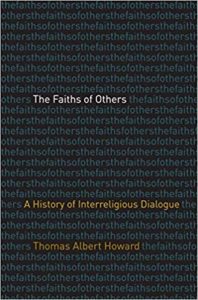 Thomas Albert Howard, The Faiths of Others: A History of Interreligious Dialogue. 2021
In recent decades, organizations committed to interreligious or interfaith dialogue have proliferated, both in the Western and non‑Western worlds. Why? How so? And what exactly is interreligious dialogue? These are the touchstone questions of this book, the first major history of interreligious dialogue in the modern age. Thomas Albert Howard narrates and analyzes several key turning points in the history of interfaith dialogue before examining, in the conclusion, the contemporary landscape.
While many have theorized about and practiced interreligious dialogue, few have attended carefully to its past, connecting its emergence and spread with broader developments in modern history. Interreligious dialogue—grasped in light of careful, critical attention to its past—holds promise for helping people of diverse faith backgrounds to foster cooperation and knowledge of one another while contributing insight into contemporary, global religious pluralism.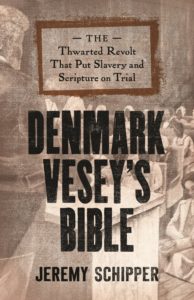 Jeremy Schipper, Denmark Vesey's Bible: The Thwarted Revolt That Put Slavery and Scripture on Trial. 2022
On July 2, 1822, Denmark Vesey, a formerly enslaved man, was hanged in Charleston, South Carolina. He was convicted of plotting what might have been the largest insurrection against slaveholders in US history. Witnesses claimed that Vesey appealed to numerous biblical texts to promote and justify the revolt. While sentencing Vesey to death, Lionel Henry Kennedy, a magistrate at the trial, accused Vesey not only of treason but also of "attempting to pervert the sacred words of God into a sanction for crimes of the blackest hue." Denmark Vesey's Bible tells the story of this momentous trial, examining the role of scriptural interpretation in the deadly struggle against American white supremacy and its brutal enforcement.
Jeremy Schipper brings the trial and its aftermath vividly to life, drawing on court documents, personal letters, sermons, speeches, and editorials. He shows how Vesey compared people of African descent with enslaved Israelites in the Bible, while his accusers portrayed plantation owners as benevolent biblical patriarchs responsible for providing religious instruction to the enslaved. What emerges is an explosive portrait of an antebellum city in the grips of racial terror, violence, and contending visions of biblical truth.
Shedding light on the uses of scripture in America's troubled racial history, Denmark Vesey's Bible draws vital lessons from a terrible moment in the nation's past, enabling us to confront racism and religious discord today with renewed urgency and understanding.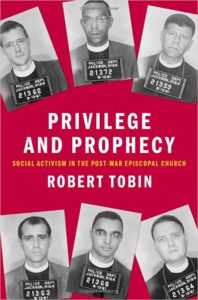 Robert Tobin, Privilege and Prophecy: Social Activism and the Post-War Episcopal Church. 2022
The Episcopal Church has long been regarded as the religion of choice among America's ruling elite, helping to set the tone for the moral and social life of the nation during the twentieth century. Shaped by their experiences of the Great Depression and World War II, a new generation of Episcopal leaders emerged after 1945, eager to place their church in the vanguard of social reform and reconciliation. These liberal activists came to dominate the church's national structures during the 1960s and shaped its response to the civil rights and anti-war movements. They sought to reposition the Episcopal Church as a catalyst for progressive change. Even so, these leaders routinely neglected black, female, and working-class Episcopalians, even as they espoused the causes of equality and liberation in the wider society.
This study focuses on forms of social activism and theological innovation pursued by members of the war generation. Attending to the development of such activities among the WASP elite provides crucial insight into their underlying assumptions about social and theological authority and helps explain their ambivalent response to the challenges faced in the 1960s and 1970s. Drawing upon extensive archival research, this book not only offers a group portrait of Episcopalianism's leading post-war figures but documents the ways in which their individual pursuits influenced the direction of the church as a whole.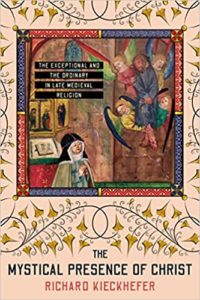 Richard Kieckhefer, The Mystical Presence of Christ: The Exceptional and the Ordinary in Late Medieval Religion 2022
The Mystical Presence of Christ investigates the connections between exceptional experiences of Christ's presence and ordinary devotion to Christ in the late medieval West. Unsettling the notion that experiences of seeing Christ's figure or hearing Christ speak are simply exceptional events that happen at singular moments, Richard Kieckhefer reveals the entanglements between these experiences and those that occur through the imagery, language, and rituals of ordinary, everyday devotional culture.
Kieckhefer begins his book by reconsidering the "who" and the "how" of Christ's mystical presence. He argues that Christ's humanity and divinity were equally important preconditions for encounters, both exceptional and ordinary, which Kieckhefer proposes as existing on a spectrum of experience that moves from presupposition to intuition and finally to perception. Kieckhefer then examines various contexts of Christ manifestations—during prayer, meditation, and liturgy, for example—with attention to gender dynamics and the relationship between saintly individuals and their hagiographers. Through penetrating discussions of a diverse set of texts and figures across the long fourteenth century (Angela of Foligno, the nuns of Helfta, Margery Kempe, Dorothea of Montau, Meister Eckhart, Henry Suso, and Walter Hilton, among others), Kieckhefer shows that seemingly exceptional manifestations of Christ were also embedded in ordinary religious experience.
Wide-ranging in scope and groundbreaking in methodology, The Mystical Presence of Christ is a magisterial work that rethinks the interplay between the exceptional and the ordinary in the workings of late medieval religion.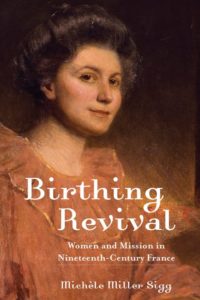 Michèle Miller Sigg, Birthing Revival: Women and Mission in Nineteenth-Century France. 2022
The nineteenth century witnessed a flurry of evangelical and missionary activity in Europe and North America. This was an era of renewed piety and intense zeal spanning denominations and countries. One area of Protestant flourishing in this period has received scant attention in Anglophone sources, however: the French Réveil. Born of a rich Huguenot heritage but aimed at recovering the religion of the heart, this awakening gave birth to a dynamic missionary movement―and some of its chief agents were women.
In Birthing Revival, Michèle Sigg sheds light on the seminal role French Protestant women played in launching and sustaining this movement of revival and mission. Out of the concerted efforts of these women arose a holistic mission strategy encompassing the home front and the foreign field. Parisian women, led by Émilie Mallet, established schools to provide infants with food, safety, and religious education. Mallet and her friend Albertine de Broglie led the women's auxiliary of the Paris Bible Society to design and carry out a strategy for large-scale Bible distribution and fundraising. In 1825 de Broglie pioneered the women's committee of the Paris Evangelical Mission Society, which used the Bible Society model to promote international missions across their many networks. In meetings, publications, and reports to the annual General Assembly, the women reflected on their calling in the work of mission and fully embraced their identity as "true missionaries."
The success of women teachers and their presence as wives and mothers in the Lesotho Mission―exemplified by pioneering missionary wife Elizabeth Lyndall Rolland―proved that married couples serving together as models of Christian living were essential in opening the doors to missionary work in Africa. The story, and these women's legacies, does not end in the field, however. Sigg demonstrates how the educational work of the missionary wives and their publications that shared good news of growing faith in Lesotho sparked local revivals in France. When the enthusiasm of the Réveil waned in the metropole and divisions mounted among Protestants, a movement of deaconesses emerged to renew the faith of French Protestants.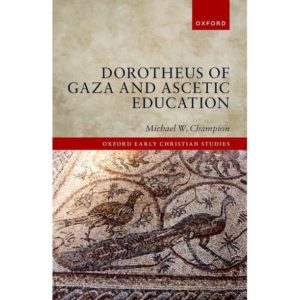 Michael W. Champion, Dorotheus of Gaza and Ascetic Education. 2022
Dorotheus of Gaza and Ascetic Education approaches fundamental questions about the role and function of education in late antiquity through a detailed study of the thought of Dorotheus of Gaza, a sixth-century Palestinian monk. It illumines the thought of a significant figure in Palestinian monasticism, clarifies relationships between ascetic and classical education, and contributes to debates about how different educational projects related to late-antique cultural change. Dorotheus appropriates and reconfigures classical discourses of rhetoric, philosophy, and medicine and builds on earlier ascetic traditions. Education is a powerful site for the reconfiguration and reproduction of culture, and Dorotheus' educational programme can be read as a microcosm of the wider culture he aims to construct partly through his adaptation and representation of classical and ascetic discourses. Key features of his educational programme include the role of the notion of godlikeness, the governing role of humility as an epistemic virtue intended to organize affective and ethical development, and his notion of education as life-long habituation. For Dorotheus, education is irreducibly affective and transformative rather than merely informative at the individual and communal scales. His epistemology and ethics are set within an account of the divine plan of salvation which is intended to provide a narrative framework through which his students come to understand the world and their place in it. His account of ways of knowing and ordering knowledge, ethics and moral development, emotions of education, and relationships between affect, cognition, and ethical action aims towards transformation of his students and their communities.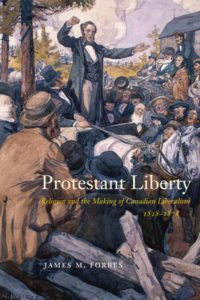 James M. Forbes, Protestant Liberty: Religion and the Making of Canadian Liberalism, 1828-1878. 2022
McGill-Queen's University Press
Tensions between Protestantism and Catholicism dominated politics in nineteenth-century Canada, occasionally erupting into violence. While some liberal politicians and community leaders believed that equal treatment of Protestants and Catholics would defuse these ancient quarrels, other Protestant liberals perceived a battle for the soul of the nation.
Protestant Liberty offers a new interpretation of nineteenth-century liberalism by re-examining the role of religion in Canadian politics. While this era's liberal thought is often characterized as being neutral toward religion, James Forbes argues that the origins of Canadian liberalism were firmly rooted in the British tradition of Protestantism and were based on the premise of guarding against the advance of supposedly illiberal faiths, especially Catholicism. After the union of Upper Canada with predominantly French-Catholic Lower Canada in 1840, this Protestant ideal of liberty came into conflict with a more neutral alternative that sought to strip liberalism of its religious associations in order to appeal to Catholic voters and allies. In a decisive break from their Protestant heritage, these liberals redefined their ideology in secular-materialist terms by emphasizing free trade and private property over faith and culture.
In tracing how the Confederation generation competed to establish a unifying vision for the nation, Protestant Liberty reveals religion and religious differences at the center of this story.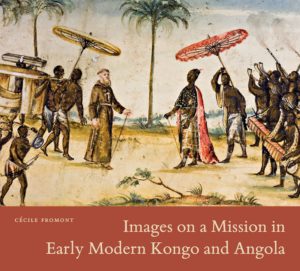 Cécile
Fromont, Images on a Mission in Early Modern Kongo and Angola. 2022
Pennsylvania State University Press
Early modern central Africa comes to life in an extraordinary atlas of vivid watercolors and drawings that Italian Capuchin Franciscans, veterans of Kongo and Angola missions, composed between 1650 and 1750 for the training of future missionaries. These "practical guides" present the intricacies of the natural, social, and religious environment of seventeenth- and eighteenth-century west-central Africa and outline the primarily visual catechization methods the friars devised for the region. Images on a Mission in Early Modern Kongo and Angola brings this overlooked visual corpus to public and scholarly attention.
This beautifully illustrated book includes full-color reproductions of all the images in the atlas, in conjunction with rarely seen related material gathered from collections and archives around the world. Taking a bold new approach to the study of early modern global interactions, art historian Cécile Fromont demonstrates how visual creations such as the Capuchin vignettes, though European in form and crafstmanship, emerged not from a single perspective but rather from cross-cultural interaction. Fromont models a fresh way to think about images created across cultures, highlighting the formative role that cultural encounter itself played in their conception, execution, and modes of operation.
Centering Africa and Africans, and with ramifications on four continents, Fromont's decolonial history profoundly transforms our understanding of the early modern world. It will be of substantial interest to specialists in early modern studies, art history, and religion.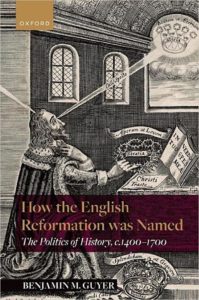 Benjamin M. Guyer, How the English Reformation was Named: The Politics of History, 1400-1700. 2022
How the English Reformation was Named analyses the shifting semantics of 'reformation' in England between the fifteenth and seventeenth centuries. Originally denoting the intended aim of church councils, 'reformation' was subsequently redefined to denote violent revolt, and ultimately a series of past episodes in religious history. But despite referring to sixteenth-century religious change, the proper noun 'English Reformation' entered the historical lexicon only during the British civil wars of the 1640s. Anglican apologists coined this term to defend the Church of England against proponents of the Scottish Reformation, an event that contemporaries singled out for its violence and illegality. Using their neologism to denote select events from the mid-Tudor era, Anglicans crafted a historical narrative that enabled them to present a pristine vision of the English past, one that endeavoured to preserve amidst civil war, regicide, and political oppression. With the restoration of the monarchy and the Church of England in 1660, apologetic narrative became historiographical habit and, eventually, historical certainty.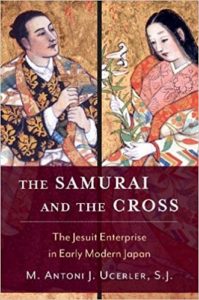 M. Antoni J. Ucerler, The Samurai and the Cross: The Jesuit Enterprise in Early Modern Japan. 2022
In 1614 the shogunate prohibited Christianity amidst rumors of foreign plots to conquer Japan. But more than the fear of armed invasions, it was the ideological threat--or "spiritual conquest"--that the Edo shogunate feared the most. This book explores the encounter of Christianity and premodern Japan in the wider context of global and intellectual history. M. Antoni J. Ucerler examines how the Jesuit missionaries sought new ways to communicate their faith in an unfamiliar linguistic, cultural, and religious environment--and how they sought to "re-invent" Christianity in the context of samurai Japan. They developed an original "moral casuistry" or "cases of conscience" adapted to the specific dilemmas faced by Japanese Christians.
This volume situates the European missionary "enterprise" in East Asia within multiple geopolitical contexts: Both Ming China and "Warring States" Japan resisted the presence of foreigners and their beliefs. In Japan, where the Jesuits were facing persecution in the midst of civil war, they debated whether they could intervene in military conflicts to protect local communities. Others advocated for the establishment of a "Christian republic" or civil protectorate. Based on little-known primary sources in various languages, The Samurai and the Cross explores the moral and political debates over religion, law, and "reason of state" that took place on both the European and the Japanese side.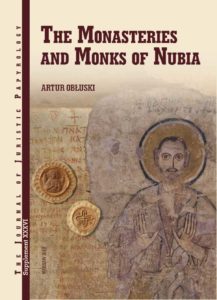 Artur Obłuski, The Monasteries and Monks of Nubia. 2022
The volume is the first study of the archaeology of religion of Christian Nubia. It presents the material record of Nubian monasticism and offers a comparative analysis of this phenomenon. On the basis of archaeological and epigraphic data, the author reconstructs the life in Nubian monasteries. The work features a catalogue of archaeological sites tentatively identified as locations of monastic communities, as well as an overview of pertinent textual sources. Among the focal points are spatial aspects of the Nubian monastic movement, particularly the location of Nubian monasteries and their spatial organisation. Spatial analysis of monastic sites serves as a point of departure for insights into the social and economic matters of monastic communities in Nubia, which are central to the third part of the book. From the scarce sources the author recreates the complex spiritual and social dynamics present in monasteries, their management systems and competing hierarchies.