Monthly Updates on Recent Books in the History of Christianity
To raise awareness of recent books in the history of Christianity, the editorial staff of Church History: Studies in Christianity and Culture highlights each month a list of 10-15 books in diverse periods and geographical regions that we hope will be of interest to our members.  We include here below the 32nd monthly list, chosen by our staff, with excerpts from the publishers' blurbs.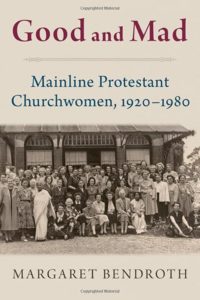 Margaret Bendroth, Good and Mad: Mainline Protestant Churchwomen, 1920-1980. 2022
Good and Mad tells the story of women in liberal Protestant churches, the so-called mainline, during a complex era, after the suffrage amendment and before the advent of second wave feminism. These socially progressive churchwomen, predominantly white but also African American, coastal urbanites as well as salt-of-the-earth Southerners and Midwesterners, campaigned for human rights and global peace, worked for interracial cooperation, and opened the path to women's ordination—and chose to do so within churches that denied them equality. Historian Margaret Bendroth explores the paradoxes and conflicting loyalties of churchwomen in this "between time," interweaving a larger story with vignettes of individual women who knew both the value of compromise and the cost of anger. This lively historical account, told with women at the center rather than the periphery, incorporates the efforts of churchwomen from the rural South to the halls of the World Council of Churches in Geneva, Switzerland. It explains not just how feminism finally took root in American mainline churches but also why change was so long in coming.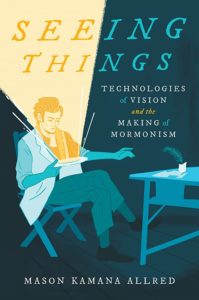 Mason Kamana Allred, Seeing Things: Technologies of Vision and the Making of Mormonism. 2023
University of North Carolina Press
In this theoretically rich work, Mason Kamana Allred unearths the ways Mormons have employed a wide range of technologies to translate events, beliefs, anxieties, and hopes into reproducible experiences that contribute to the growth of their religious systems of meaning. Drawing on methods from cultural history, media studies, and religious studies, Allred focuses specifically on technologies of vision that have shaped Mormonism as a culture of seeing. These technologies, he argues, were as essential to the making of Mormonism as the humans who received, interpreted, and practiced their faith.
While Mormons' uses of television and the internet are recent examples of the tradition's use of visual technology, Allred excavates older practices and technologies for negotiating the spirit, such as panorama displays and magic lantern shows. Fusing media theory with feminist new materialism, he employs media archaeology to examine Mormons' ways of performing distinctions, beholding as a way to engender radical visions, and standardizing vision to effect assimilation. Allred's analysis reveals Mormonism as always materially mediated and argues that religious history is likewise inherently entangled with media.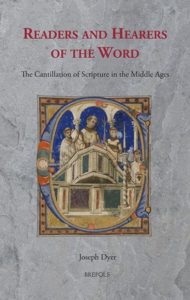 Joseph
Dyer, Readers and Hearers of the Word: The Cantillation of Scripture in the Middle Ages. 2022
Readers and Hearers is a broad, multi-disciplinary treatment of the chanting of the Scriptures (epistle and gospel) at Mass in the Middle Ages. This form of chanting followed a procedure that continued to be used in the western Latin liturgy until the mid-twentieth century and in the traditional Latin Mass today. The readings were not simply spoken, but chanted to formulae that stood halfway between heightened speech and song (cantillation). Specific clerics (lectors, subdeacons, deacons), distinctively vested, were commissioned to chant the Scriptures, employing a ritual that came to be surrounded by an elaborate ceremonial. For the gospel this involved acolytes, processional movement, and the employment of ecclesiastical 'furniture' (pulpit, ambo, and choir screen).
While the laity attending Mass could generally see all of the ritual actions, what did they understand of the Latin text they were hearing? In areas where Latin was spoken in Antiquity the ability to comprehend Latin passively as it morphed into the Romance vernaculars survived longer than generally assumed. Naturally, in Germanic lands, christianized in the early Middle Ages, that capability never existed. Several manuals were created to guide layfolk to engage in devotions suitable to the various parts of the Mass. How all of these elements — ceremony and devotional aids — united 'readers' with 'hearers' at Mass is the theme of the present volume, which also covers Martin Luther's guidelines for the chanting of the Scriptures in German.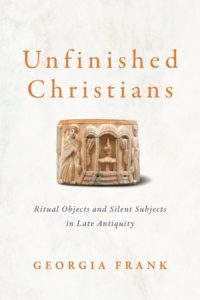 Georgia
Frank, Unfinished Christians: Ritual Objects and Silent Subjects in Late Antiquity. 2023
University of Pennsylvania Press
What can we know about the everyday experiences of Christians during the fourth, fifth, and sixth centuries? How did non-elite men and women, enslaved, freed, and free persons, who did not renounce sex or choose voluntary poverty become Christian? They neither led a religious community nor did they live in entirely Christian settings. In this period, an age marked by "extraordinary" Christians―wonderworking saints, household ascetics, hermits, monks, nuns, pious aristocrats, pilgrims, and bishops―ordinary Christians went about their daily lives, in various occupations, raising families, sharing households, kitchens, and baths in religiously diverse cities. Occasionally they attended church liturgies, sought out local healers, and visited martyrs' shrines. Barely and rarely mentioned in ancient texts, common Christians remain nameless and undifferentiated.
Unfinished Christians explores the sensory and affective dimensions of ordinary Christians who assembled for rituals. With precious few first-person accounts by common Christians, it relies on written sources not typically associated with lived religion: sermons, liturgical instruction books, and festal hymns. All three genres of writing are composed by clergy for use in ritual settings. Yet they may also provide glimpses of everyday Christians' lives and experiences. This book investigates the habits, objects, behaviors, and movements of ordinary Christians by mining festal preaching by John Chrysostom, Cyril of Jerusalem, Gregory of Nyssa, and Romanos the Melodist, among others. It also mines liturgical instructions to explore the psalms and other songs performed on various feast days. "Unfinished," then, connotes the creativity and agency of unremarkable Christians who engaged in making religious experiences: the "Christian-in-progress" who learns to work with material and bring something into being; the artisans who attended sermons; and, more widely, the bearers of embodied knowing.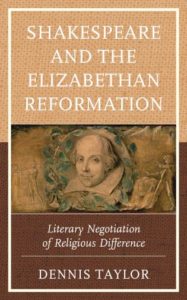 Dennis Taylor, Shakespeare and the Elizabethan Reformation: Literary Negotiations of Religious Difference. 2022
Shakespeare and the Elizabethan Reformation: Literary Negotiation of Religious Difference explores how Shakespeare's plays dramatize key issues of the Elizabethan Reformation, the conflict between the sacred, the critical, and the disenchanted; alternatively, the Catholic, the Protestant, and the secular. Each play imagines their reconciliation or the failure of reconcilation. The Catholic sacred is shadowed by its degeneration into superstition, Protestant critique by its unintended (fissaparous) consequences, the secular ordinary by stark disenchantment. Shakespeare shows how all three perspectives are needed if society is to face its intractable problems, thus providing a powerful model for our own ecumenical dialogues. Shakespeare begins with history plays contrasting the saintly but impractical King Henry VI, whose assassination is the "primal crime," with the pragmatic and secular Henry IV, until imagining in the later 1590's how Hal can reconnect with sacred sources. At the same time in his comedies, Shakespeare imagines cooperative ways of resolving the national "comedy of errors," of sorting out erotic and marital and contemplative confusions by applying his triple lens. His late Elizabethan comedies achieve a polished balance of wit and devotion, ordinary and the sacred, old and new orders. Hamlet is Shakespeare's ultimate Elizabethan consideration of these issues, its so-called lack of objective correlation a response to the unsorted trauma of the Reformation.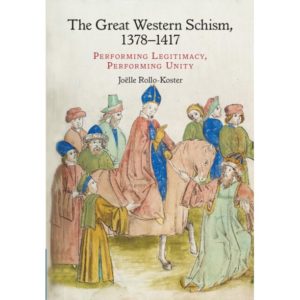 Joëlle Rollo-Koster, The Great Western Schism, 1378–1417: Performing Legitimacy, Performing Unity. 2022
The Great Schism divided Western Christianity between 1378 and 1417. Two popes and their courts occupied the see of St. Peter, one in Rome, and one in Avignon. Traditionally, this event has received attention from scholars of institutional history. In this book, by contrast, Joëlle Rollo-Koster investigates the event through the prism of social drama. Marshalling liturgical, cultural, artistic, literary and archival evidence, she explores the four phases of the Schism: the breach after the 1378 election, the subsequent division of the Church, redressive actions, and reintegration of the papacy in a single pope. Investigating how popes legitimized their respective positions and the reception of these efforts, Rollo-Koster shows how the Schism influenced political thought, how unity was achieved, and how the two capitals, Rome and Avignon, responded to events. Rollo-Koster's approach humanizes the Schism, enabling us to understand the event as it was experienced by contemporaries.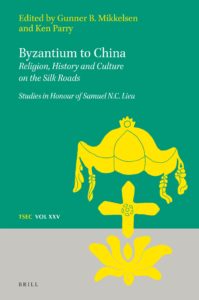 Ken Parry and Gunner Mikkelsen, eds. Byzantium to China: Religion, History and Culture on the Silk Roads: Studies in Honour of Samuel N.C. Lieu. 2022
This collection of papers reflects the interests and influence of Samuel N. C. Lieu on scholars and students during his academic career. It demonstrates not only the importance of his work on Manichaeism, but his broader intellectual contribution to early Christian, Roman, Byzantine, and comparative historical studies. His impact on Manichaean studies has been unparalleled resulting in several prestigious book series devoted to the linguistic and historical study of Mani and his religion. It is largely thanks to his enterprise that scholars now have access to an extensive library of texts and images unavailable to earlier researchers. The volume honours the life and work of a remarkable scholar of international renown.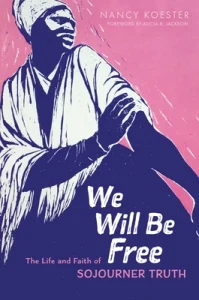 Nancy Koester, We Will be Free: The Life and Faith of Sojourner Truth. 2023
Though born into slavery, Sojourner Truth would defy the limits placed upon her as a Black woman to become one of the nineteenth century's most renowned female preachers and civil rights advocates. In We Will Be Free, Nancy Koester chronicles her spiritual journey as an enslaved woman, a working mother, and an itinerant preacher and activist.
On Pentecost in 1827, the course of Sojourner Truth's life was changed forever when she had a vision of Jesus calling her to preach. Though women could not be trained as ministers at the time, her persuasive speaking, powerful singing, and quick wit converted many to her social causes. During the Civil War, Truth campaigned for the Union to abolish slavery throughout the United States, and she personally recruited Black troops for the effort. Her activism carried her to Washington, DC, where she met Abraham Lincoln and ministered to refugees of Southern slavery. Truth's faith-driven action continued throughout Reconstruction, as she aided freed people, campaigned for reparations, advocated for women's rights, and defied segregation on public transportation.
Sojourner Truth's powerful voice once echoed in the streets of Washington and New York. Her passion rings out again in Nancy Koester's vivid writing. As the legacy of slavery and segregation still looms over the United States today, students of American history, Christians, and all interested readers will find inspiration and illumination in Truth's story.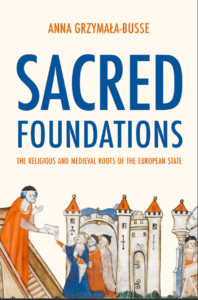 Anna Grzymała-Busse, Sacred Foundations: The Religious and Medieval Roots of the European State. 2023
Sacred Foundations argues that the medieval church was a fundamental force in European state formation. Existing accounts focus on early modern warfare or contracts between the rulers and the ruled. In contrast, this major study shows that the Catholic Church both competed with medieval monarchs and provided critical templates for governing institutions, the rule of law, and parliaments.
The Catholic Church was the most powerful, wealthiest, and best-organized political actor in the Middle Ages. Starting in the eleventh century, the papacy fought for the autonomy of the church, challenging European rulers and then claiming authority over people, territory, and monarchs alike. Anna Grzymała-Busse demonstrates how the church shaped distinct aspects of the European state. Conflicts with the papacy fragmented territorial authority in Europe for centuries to come, propagating urban autonomy and ideas of sovereignty. Thanks to its organizational advantages and human capital, the church also developed the institutional precedents adopted by rulers across Europe—from chanceries and taxation to courts and councils. Church innovations made possible both the rule of law and parliamentary representation.
Bringing to light a wealth of historical evidence about papal conflict, excommunications, and ecclesiastical institutions, Sacred Foundations reveals how the challenge and example of powerful religious authorities gave rise to secular state institutions and galvanized state capacity.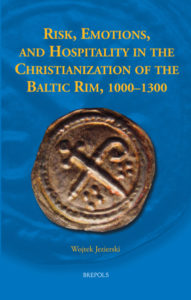 Wojtek Jezierski, Risk, Emotions, and Hospitality in the Christianization of the Baltic Rim, 1000-1300. 2022
What anxieties did medieval missionaries and crusaders face and what role did the sense of risk play in their community-building? To what extent did crusaders and Christian colonists empathize with the local populations they set out to conquer? Who were the hosts and who were the guests during the confrontations with the pagan societies on the Baltic Rim? And how were the uncertainties of the conversion process addressed in concrete encounters and in the accounts of Christian authors?
This book explores emotional bonding as well as practices and discourses of hospitality as uncertain means of evangelization, interaction, and socialization across cultural divides on the Baltic Rim, c. 1000–1300. It focuses on interactions between local populations and missionary communities, as well as crusader frontier societies. By applying tools of historical anthropology to the study of host-guest relations, spaces of hospitality, emotional communities, and empathy on the fronts of Christianization, this book offers fresh insights and approaches to the manner in which missionaries and crusaders reflexively engaged with the groups targeted by Christianization in terms of practice, ethics, and identity.
Finally, for staying up-to-date on the latest titles in all fields, we recommend regularly perusing New Books Network and its "New Books in Christian Studies" page. These pages are updated regularly.