Monthly Updates on Recent Books in the History of Christianity
To raise awareness of recent books in the history of Christianity, the editorial staff of Church History: Studies in Christianity and Culture highlights each month a list of 10-15 books in diverse periods and geographical regions that we hope will be of interest to our members.  We include here below the 29th monthly list, chosen by our staff, with excerpts from the publishers' blurbs.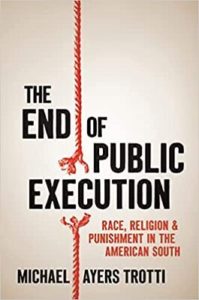 Michael Ayers Trotti, The End of Public Execution: Race, Religion, and Punishment in the American South. 2022
The University of North Carolina Press
Before 1850, all legal executions in the South were performed before crowds that could number in the thousands; the last legal public execution was in 1936. This study focuses on the shift from public executions to ones behind barriers, situating that change within our understandings of lynching and competing visions of justice and religion. Intended to shame and intimidate, public executions after the Civil War had quite a different effect on southern Black communities. Crowds typically consisting of as many Black people as white behaved like congregations before a macabre pulpit, led in prayer and song by a Black minister on the scaffold. Black criminals often proclaimed their innocence and almost always their salvation. This turned the proceedings into public, mixed-race, and mixed-gender celebrations of Black religious authority and devotion. In response, southern states rewrote their laws to eliminate these crowds and this Black authority, ultimately turning to electrocutions in the bowels of state penitentiaries. As a wave of lynchings crested around the turn of the twentieth century, states transformed the ways that the South's white-dominated governments controlled legal capital punishment, making executions into private affairs witnessed only by white people.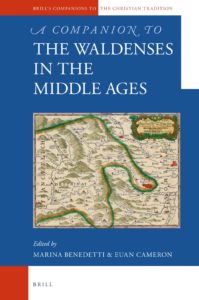 Marina Benedetti and Euan Cameron, eds. A Companion to the Waldenses in the Middle Ages. 2022
The medieval dissenters known as 'Waldenses', named after their first founder, Valdes of Lyons, have long attracted careful scholarly study, especially from specialists writing in Italian, French and German. Waldenses were found across continental Europe, from Aragon to the Baltic and East-Central Europe. They were long-lived, resilient, and diverse. They lived in a special relationship with the prevailing Catholic culture, making use of the Church's services but challenging its claims.
Many Waldenses are known mostly, or only, because of the punitive measures taken by inquisitors and the Church hierarchy against them. This volume brings for the first time a wide-ranging, multi-authored interpretation of the medieval Waldenses to an English-language readership, across Europe and over the four centuries until the Reformation.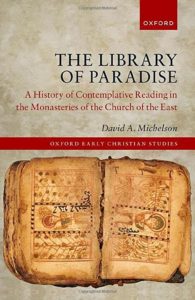 David A. Michelson, The Library of Paradise: A History of Contemplative Reading in the Monasteries of the Church of the East. 2022
This book tells the story of contemplative reading, a spiritual discipline practiced in the Syriac Christian monasteries of the Church of the East in sixth- and seventh-century Mesopotamia. These ascetics practiced a form of contemplation which moved from reading, to meditation, to prayer, to the ecstasy of divine vision. The book proceeds in two parts. The first part crafts a methodology. The second, longer part is an historical narrative of the development, definition, and diffusion of contemplative reading. The book adapts methodological insights from prior scholarship on the history of reading, including studies on early medieval lectio divina. Another methodological chapter undertakes a cautionary case study of the British Library manuscript collection and identifies how future scholarship can overcome cultural and racial prejudices which have sometimes obscured the history of Syriac monastic readers from view. The second half of the book employs this methodology to narrate the evolution of East Syrian contemplative reading over three historical phases: the establishment of the practice, the articulation of its theology, and the maturation and spread of the tradition. Individual chapters focus on the role of ascetic reading in the monastic reform of Abraham of Kashkar, the commentaries on Evagrius of Pontus written by Babai the Great, and the monastic handbooks of ʿEnanishoʿ of Adiabene and Dadishoʿ of Qatar. A concluding chapter points the way forward for further scholarship by noting the long legacy of East Syrian contemplative reading through its reception into Sogdian, Arabic, and Ethiopic monastic libraries.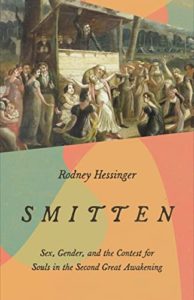 Rodney Hessinger, Smitten: Sex, Gender, and the Contest for Souls in the Second Great Awakening. 2022
In Smitten, Rodney Hessinger examines how the Second Great Awakening disrupted gender norms across a breadth of denominations. The displacement and internal migration of Americans created ripe conditions for religious competition in the North. Hessinger argues that during this time of religious ferment, religious seekers could, in turn, play the missionary or the convert. The dynamic of religious rivalry inexorably led toward sexual and gender disruption. Contending within an increasingly democratic religious marketplace, preachers had to court converts in order to flourish. They won followers through charismatic allure and making concessions to the desires of the people. Opening their own hearts to new religious impulses, some religious visionaries offered up radical dispensations—including new visions of how God wanted them to reorder sex and gender relations in society. A wide array of churches, including Methodists, Baptists, Mormons, Shakers, Catholics, and Perfectionists, joined the fray.
Religious contention and innovation ultimately produced backlash. Charges of seduction and gender trouble ignited fights within, among, and against churches. Religious opponents insisted that the newly converted were smitten with preachers, rather than choosing churches based on reason and scripture. Such criticisms coalesced into a broader pan-Protestant rejection of religious enthusiasm. Smitten reveals the sexual disruptions and subsequent domestication of religion during the Second Great Awakening.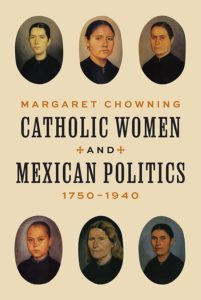 Margaret Chowning, Catholic Women and Mexican Politics, 1750-1940. 2023
What accounts for the enduring power of the Catholic Church, which withstood widespread and sustained anticlerical opposition in Mexico? Margaret Chowning locates an answer in the untold story of how the Mexican Catholic church in the nineteenth century excluded, then accepted, and then came to depend on women as leaders in church organizations.
But much more than a study of women and the church or the feminization of piety, the book links new female lay associations beginning in the 1840s to the surprisingly early politicization of Catholic women in Mexico. Drawing on a wealth of archival materials spanning more than a century of Mexican political life, Chowning boldly argues that Catholic women played a vital role in the church's resurrection as a political force in Mexico after liberal policies left it for dead.
Shedding light on the importance of informal political power, this book places Catholic women at the forefront of Mexican conservatism and shows how they kept loyalty to the church strong when the church itself was weak.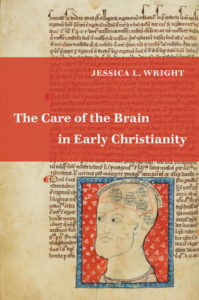 Jessica L. Wright, The Care of the Brain in Early Christianity. 2022
University of California Press
Cerebral subjectivity—the identification of the individual self with the brain—is a belief that has become firmly entrenched in modern science and popular culture. In The Care of the Brain in Early Christianity, Jessica Wright traces its roots to tensions within early Christianity over the brain's role in self-governance and its inherent vulnerability. Examining how early Christians appropriated medical ideas, Wright tracks how they used these ideas for teaching ascetic practices, developing therapeutics for the soul, and finding a path to salvation. Bringing a medical lens to religious discourse, this text demonstrates that rather than rejecting medical traditions, early Christianity developed by creatively integrating them.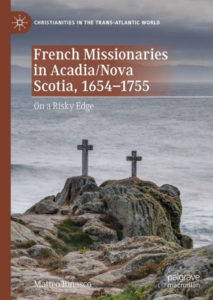 Matteo Binasco, French Missionaries in Acadia/Nova Scotia, 1654-1755: On a Risky Edge. 2022
This book investigates and assesses how and to what extent the French Catholic missionaries carried out their evangelical activity amid the natives of Acadia/Nova Scotia from the mid-seventeenth century until 1755, the year of the Great Deportation of the Acadians. It provides a new understanding of the role played by the French missionaries in the most peripheral and less populated area of Canada during the colonial period. The decision to focus on this period is dictated by the need to investigate how and to which extent the French missionaries sought to carry out their activity within a contested territory which was exposed to the pressures coming out of both French and British imperial interests.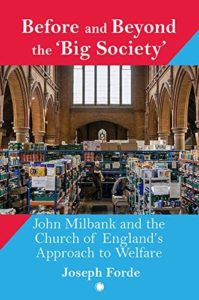 Joseph Forde, Before and Beyond the "Big Society": John Milbank and the Church of England's Approach to Welfare. 2022
John Milbank's theology has shaped much modern political thinking both within and without the Church. In Before and Beyond the 'Big Society', Joseph Forde presents the first study devoted exclusively to John Milbank's theology of welfare, and how it has influenced policy in the Church of England since 2008. By examining the favourable response the Church gave to the 'Big Society' project in 2010-12, Forde shows that Milbank's Blue Socialist fingerprint increasingly dominates. However, this theology has not evolved in a vacuum and Forde expertly places it in its historical and theoretical context. He offers a detailed critical discussion of Milbank's own critique of what has been the mainstream (Temple) Anglican theology of welfare in the Church of England since the 1940s, and a fresh contribution to the assessment of Anglican social theology. Finally, he demonstrates how Milbank's ideas have been furthered by other influential Anglicans. It is this influence that will carry the greatest implications for the Church of England's policy on welfare going forward, making this study relevant to all who care about its contribution to the provision of welfare.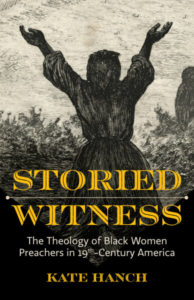 Kate Hanch, Storied Witness: The Theology of Black Women Preachers in 19th-Century America. 2022
The voices of Black women have historically been silenced, especially in theological and religious contexts. Prophets rarely have platforms; faithfulness to oneself, one's community, and one's God does not often lead to prestige. Nineteenth-century Black women preachers Zilpha Elaw, Julia Foote, and Sojourner Truth are not usually presented in systematic theology classes or texts and not often cited in sermons for their biblical interpretations, nor are they taught in church history courses.
They should be. These women present a liberating view of God and love for self and neighbor despite circumstances that would destroy them or relegate them and their ideas to the margins. As Elaw, Foote, and Truth preached, traveled, and ministered, they constructed a theology that affirmed their belovedness as Black women and enabled them to be both pastoral and prophetic. They modeled a way to do theology that wasfaithful to the biblical witness and Christian history, was pastorally attentive to their respective communities and themselves, and identified and challenged the evils of their day. They interpreted Scripture to show that God favored them and lovedthem, and their bodies, even when the world said otherwise. They recognized that in order to be pastoral, they must be prophetic, calling out structures of domination that would seek to harm. And as they preached a word of comfort to the oppressed, oppressors heard--and still hear--the judgment in their voices.
Kate Hanch conducts a careful reading of these 19th-century Black women preachers' narratives and their texts, both written and spoken, to make explicit their theology. At once a work of religious history, biography, and constructive theology, Storied Witness calls attention to the essential lived witness of Zilpha Elaw, Julia Foote, and Sojourner Truth. By paying attention to their stories, we discover and honor both their theology and their role as theologians. Thanks to their witness, we are challenged by a theology that testifies to a liberating Christianity in defiance of the dominant culture around them and us.
Pui Him Ip, Origen and the Emergence of Divine Simplicity before Nicaea. 2022
University of Notre Dame Press
For centuries, Christian theology affirmed God as simple (haplous) and Triune. But the doctrine of the simple Trinity has been challenged by modern critics of classical theism. How can God, conceived as purely one without multiplicity, be a Trinity? This book sets a new historical foundation for addressing this question by tracing how divine simplicity emerged as a key notion in early Christianity. Pui Him Ip argues that only in light of the Platonic synthesis between the Good and the First Principle (archē) can we make sense of divine simplicity as a refusal to associate any kind of plurality that brings about contraries in the divine life. This philosophical doctrine, according to Ip, was integral to how early Christians began to speak of the divine life in terms of a relationship between Father and Son.
Through detailed historical exploration of Irenaeus, sources from the Monarchian controversy, and especially Origen's oeuvre, Ip contends that the key contribution from ante-Nicene theology is the realization that it is nontrivial to speak of the begetting of a distinct person (Son) from a simple source (Father). This question became the central problematic in Trinitarian theology before Nicaea and remained crucial for understanding the emergence of rival accounts of the Trinity ("pro-Nicene" and "anti-Nicene" theologies) in the fourth century. Origen and the Emergence of Divine Simplicity before Nicaea suggests a new revisional historiography of theological developments after Origen and will be necessary reading for serious students both of patristics and of the wider history of Christian thought.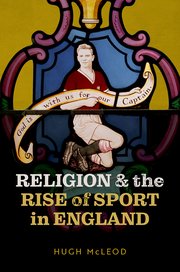 Hugh McLeod, Religion and the Rise of Sport in England. 2022
Both religion and sport stir deep emotions, shape identities, and inspire powerful loyalties. They have sometimes been in competition for people's resources of time and money, but can also be mutually supportive.
We live in a world where sport seems to be everywhere. Not only is there saturation media coverage but governments extol the benefits of sport for nation and individual, and in 2019 the Church of England appointed a Bishop for Sport. The religious world has not always looked so kindly on sport. In the early nineteenth century, Evangelical Christians led campaigns to ban sports deemed cruel, brutal or disorderly. But from the 1850s Christian and other religious leaders turned from attacking 'bad' sports to promoting 'good' ones. The pace of change accelerated in the 1960s, as commercialization of sport intensified and Sunday sport became established, while the world of religion was transformed by increasing secularization, a resurgent Evangelicalism, and the growth of a multi-faith society.
This is the first book to tell this story, and while its principal focus is on Christianity, there is additional coverage of Judaism and Islam, as there is of those - from Victorian sporting gentry to present-day football fans and marathon runners - for whom sport is itself a religion.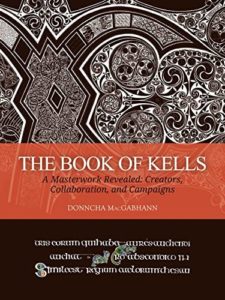 Donncha MacGabhann, The Book of Kells: A Masterwork Revealed: Creators, Collaboration, and Campaigns. 2022
Sublime calligraphy, marvelous art, and amazing initials, have charmed and captivated the audience of the Book of Kells for over twelve hundred years. This remarkable illuminated Gospel book attracts the attention of scholars as well as those more generally interested in the fabulous artifacts of the past.
Everybody knows it was made by an extensive team of scribes and artists. Donncha MacGabhann knew that too. However, he was certain that a thorough examination could clearly identify the various contributions of its creators.
His life and work as an artist and teacher inspired the belief that a close visual study could solve some of its enduring puzzles. The deeper he delved, the more he was convinced that Kells is entirely the work of two individuals. This evolved into a novel paradigm through which he came to know and understand the manuscript. Following years of meticulous research, this book tells the story of Kells' two Masters and their collaboration to create a Gospel book of unprecedented magnificence. Most poignantly, it reveals the struggle of the lone survivor of the two-man team to attempt the completion of their magnum opus.
The most important outcomes of this book go far beyond the simple attribution of work to different hands. Much more significantly, it affords insights into the imagination which inspired its creators, especially the unique vision of Kells' great Scribe-Artist. Collectively, these new perspectives reveal a previously unknown 'Book of Kells,' one which, as it were, has remained hidden in plain sight.
Challenging long-held theories is no small matter, and in doing so this radical study attempts to be comprehensive. The abundance of evidence may at times seem extravagant in its detail, for both specialists and non-specialists. The reader is therefore encouraged to find their own path in exploring The Book of Kells – A Masterwork Revealed: Creators, Collaboration, and Campaigns.
Finally, for staying up-to-date on the latest titles in all fields, we recommend regularly perusing New Books Network and its "New Books in Christian Studies" page. These pages are updated regularly.