Monthly Updates on Recent Books in the History of Christianity
To raise awareness of recent books in the history of Christianity, the editorial staff of Church History: Studies in Christianity and Culture highlights each month a list of 10-15 books in diverse periods and geographical regions that we hope will be of interest to our members.  We include here below the 37th monthly list, chosen by our staff, with excerpts from the publishers' blurbs.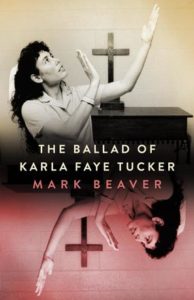 Mark Beaver, The Ballad of Karla Faye Tucker. 2023
University Press of Mississippi
On a June night in 1983, twenty-three-year-old Karla Faye Tucker and her boyfriend, fueled by a sinister cocktail of illicit drugs, broke into a Houston apartment. "We were very wired," Tucker later testified, "and we was looking for something to do." Though they later claimed they entered the premises with no murderous intent, they ended up slaughtering two people—one a sworn enemy, the other an utter stranger. The weapon: a pickax they found in the apartment.
Fourteen years later, in early 1998, Tucker was facing lethal injection. But after her religious conversion in prison, Texas would be executing a different woman than the one who'd committed the murders. Her change was so dramatic that the most powerful and influential voices in American televangelism—Pat Robertson and Jerry Falwell among them—were urging viewers to contact Texas's governor, George W. Bush, and plead for clemency. One follower was author Mark Beaver's father, a devout Southern Baptist deacon who asked Beaver to put his fledgling literary ambitions to work by composing a letter on his behalf to Governor Bush.
Through a merger of true crime, social history, and memoir, The Ballad of Karla Faye Tucker illustrates how a seemingly distant news story triggers a national reckoning and exposes a growing divide in America's evangelical community. It's a tale of how one woman defies all conventions of death row inmates, and her saga serves as an unlikely but fascinating prism for exploring American culture and the limits of forgiveness and transformation. It's also a deeply personal reflection on how a father's request leads his son to struggle with who he was raised to be and who he imagines becoming.
Owen Davies, Troubled by Faith: Insanity and the Supernatural in the Age of the Asylum. 2023
The early nineteenth century witnessed the birth of psychiatry, a new medical science that fundamentally changed how mental illness was labelled and understood. Troubled by Faith explores how psychiatrists not only thought they were agents of modernity but that they could also explain the occult mysteries of the past. They bristled with confidence that, in an era of unprecedented change, unlocking the secrets of the mind was essential to an ordered and progressive society. And a progressive society was one that did not believe in witches, ghosts, and fairies, and did not exhibit excited religious emotions and divine communications. Through examining the extensive psychiatric literature from Europe and America, Troubled by Faith charts how once widely-held popular beliefs were pathologized, and how this fundamentally impacted on the notion of criminal and legal responsibility. In the second half of the book, we listen to the voices of asylum patients as recorded in case books. The asylum was an extraordinary cultural space where under one roof prophets, messiahs, the bewitched, and the haunted mixed, and people wrestled with angels, devils, imps, and witches. It was a place filled with talk of infernal machines and sinister electrical forces. Whether seriously ill and deluded, or sane and lucid in their beliefs and imaginings, patients' experiences were, nevertheless, reflective of a society being transformed by technology and yet still rooted in the supernatural.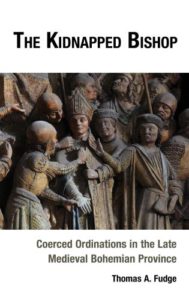 Thomas Fudge, The Kidnapped Bishop: Coerced Ordinations in the Late Medieval Bohemian Province. 2023
In 1417 a bishop was kidnapped and held in a remote castle in Bohemia where he was forced to consecrate to the priesthood as many as 100 candidates. These priests belonged to the heretical movement of Hussite reformers. Though well-known amongst specialists, this unprecedented episode has never been systematically examined with a view to understanding if the coerced ordinations were lawful. Issues around legitimacy raise numerous questions and the narrative is situated at the compelling intersection of medieval heresy, theology, and canon law. The notion of kidnapping a bishop and forcing him to perform religious functions, consonant with the will of his tormentors, is arresting. More puzzling, the agents of coercion continued to value aspects of a faith they appeared to reject. They had no intention of practicing obedience to the Roman Church, its hierarchy or laws. The modern reader may be perplexed to learn that those responsible for the abduction believed a Roman prelate was necessary as an imprimatur of legitimation if their own religious practices were to survive. The episode, unique in medieval European history, presents an intellectual thriller.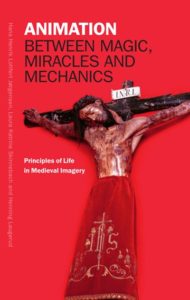 Hans Henrik Lohfert Jørgensen, Laura Katrine Skinnebach, and Henning Laugerud, Animation Between Magic, Miracles and Mechanics: Principles of Life in Medieval Imagery. 2023
Image as life: animism revived in wonders of vivification When it comes to images, we are all animists. This still applies today, when the image is as alive as ever. So, we need to study historical cultures of animation to get a deeper sense of living imagery, past and present. "Animation" does indeed imply that an ensouled image or empowered object is alive, endowed with anima: a "soul", "spirit" or "vital principle." In the Middle Ages, holy (or emphatically unholy) imagery often possessed a treasured (or dreaded) ability to come to life, to act and do things, to move and gesticulate, to speak and exude. This animist book is about the different modes and principles of animation that made medieval images perform their spectacular wonders of locomotion and physical transformation. It ranges from mechanical machinery to works of magic and motor miracles. We engage with talking and bleeding crucifixes; we listen to ventriloquized oracles, moving Madonnas, robot Redeemers and automated devils. Such self-propelled movers enacted their natural or supernatural animations in monasteries and churches, in demonic technologies and occult treatises, in marvels of magic, miracles and mechanics. With its return to medieval animism, this book will enliven anyone with an interest in the agency of images, medieval art and art history, body and spirit, material culture and ideas, anthropology and religion, theology and philosophy.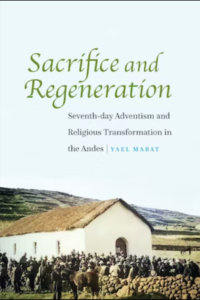 Yael Mabat, Sacrifice and Regeneration: Seventh-day Adventism and Religious Transformation in the Andes. 2022
At the dawn of the twentieth century, while Lima's aristocrats hotly debated the future of a nation filled with "Indians," thousands of Aymara and Quechua Indians left the pews of the Catholic Church and were baptized into Seventh-day Adventism. One of the most staggering Christian phenomena of our time, the mass conversion from Catholicism to various forms of Protestantism in Latin America was so successful that Catholic contemporaries became extremely anxious on noticing that parts of the Indigenous population in the Andean plateau had joined a Protestant church.
In Sacrifice and Regeneration Yael Mabat focuses on the extraordinary success of Seventh-day Adventism in the Andean highlands at the beginning of the twentieth century and sheds light on the historical trajectories of Protestantism in Latin America. By approaching the religious conversion among Indigenous populations in the Andes as a multifaceted and dynamic interaction between converts, missionaries, and their social settings and networks, Mabat demonstrates how the religious and spiritual needs of converts also brought salvation to the missionaries. Conversion had important ramifications on the way social, political, and economic institutions on the local and national level functioned. At the same time, socioeconomic currents had both short-term and long-term impacts on idiosyncratic religious practices and beliefs that both accelerated and impeded religious change. Mabat's innovative historical perspective on religious transformation allows us to better comprehend the complex and often contradictory way in which Protestantism took shape in Latin America.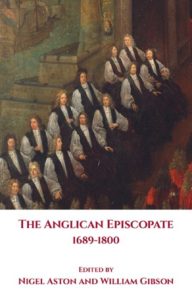 Nigel Aston and William Gibson, eds. The Anglican Episcopate, 1689-1800. 2023
The eighteenth-century bishops of the Church of England and its sister communions had immense status and authority in both secular and religious society. In this volume, leading experts offer a comprehensive survey of all things episcopal between the 'Glorious Revolution' of 1688 and the early nineteenth century, when the Anglican Church enjoyed exclusive establishment privileges in much of Britain. The essays consider the appointment and promotion of bishops, their parliamentary duties, and their relation to Wales, Ireland, Scotland, and the American colonies.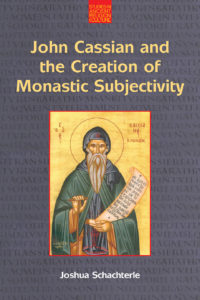 Joshua Daniel Schachterle, John Cassian and the Creation of Monastic Subjectivity. 2023
John Cassian (360-435 CE) started his monastic career in Bethlehem. He later traveled to the Egyptian desert, living there as a monk, meeting the venerated Desert Fathers, and learning from them for about fifteen years. Much later, he would go to the region of Gaul to help establish a monastery there by writing monastic manuals, the Institutes and the Conferences. These seminal writings represent the first known attempt to bring the idealized monastic traditions from Egypt, long understood to be the cradle of monasticism, to the West. In his Institutes, Cassian comments that "a monk ought by all means to flee from women and bishops" (Inst. 11.18). This is indeed an odd comment from a monk, apparently casting bishops as adversaries rather than models for the Christian life.
This book argues that Cassian, in both the Institutes and the Conferences, is advocating for a distinct separation between monastics and the institutional Church. In Cassian's writings and the larger corpus of monastic writings from his era, monks never referred to early Church fathers such as Irenaeus or Tertullian as authorities; instead, they cited quotes and stories exclusively from earlier, venerated monks. In that sense, monastic discourse such as Cassian's formed a closed discursive system, consciously excluding the hierarchical institutional Church. Furthermore, Cassian argues for a separate monastic authority based not on apostolic succession but rather on apostolic praxis, the notion that monastic practices such as prayer and asceticism can be traced back to the primitive church.
This study of Cassian's writings is supplemented with Michel Foucault's analysis of the creation of subjects in order to examine Cassian's formation of a specifically Egyptian form of monastic subjectivity for his audience, the monks of Gaul. Foucault's concepts of disciplinary power and pastoral power are also employed to demonstrate the effect Cassian's rhetoric would have upon his direct audience, as well as many other monks throughout history.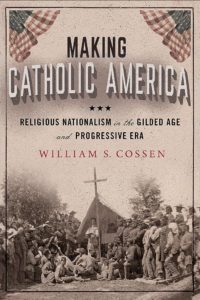 William S. Cossen, Making Catholic America: Religious Nationalism in the Gilded Age and Progressive Era. 2023
In Making Catholic America, William S. Cossen shows how Catholic men and women worked to prove themselves to be model American citizens in the decades between the Civil War and the Great Depression. Far from being outsiders in American history, Catholics took command of public life in the early twentieth century, claiming leadership in the growing American nation. They produced their own version of American history and claimed the power to remake the nation in their own image, arguing that they were the country's most faithful supporters of freedom and liberty and that their church had birthed American independence. Making Catholic America offers a new interpretation of American life in the Gilded Age and Progressive Era, demonstrating the surprising success of an often-embattled religious group in securing for itself a place in the national community and in profoundly altering what it meant to be an American in the modern world.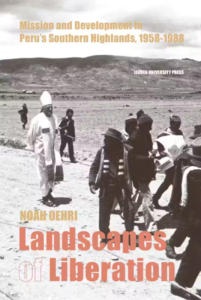 Noah Oehri, Landscapes of Liberation: Mission and Development in Peru's Southern Highlands, 1958 – 1988. 2023
Catholic mission from the mid-20th century onwards was complicated by geopolitical upheaval, church reform, and the emergent critique of the colonial power matrix to which the Church belonged. Missionary movements to Latin America coincided with visions for a progressive, radically transformative church.
Landscapes of Liberation expands scholarship into liberation theology's reception in Andean America and critically examines the interplay of the Catholic Church as a global institution with parishes as local actors. Through source material from both sides of the Atlantic, this book charts how a transnational network of pastoral agents and laypeople in Peru's southern highlands claimed mission and development as intertwined tenets of spiritual and social life throughout three decades of agrarian reform, activism, and social conflict. Ultimately, this book reveals how transformative theories for rural development yield contingent transformations: concrete change, yet contested liberation.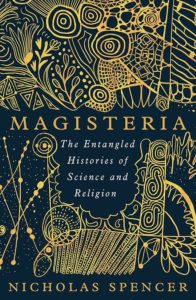 Nicholas Spencer, Magisteria: The Entangled Histories of Science and Religion. 2023
The true history of science and religion is a human one. It's about the role of religion in inspiring, and strangling, science before the scientific revolution. It's about the sincere but eccentric faith and the quiet, creeping doubts of the most brilliant scientists in history – Galileo, Newton, Faraday, Darwin, Maxwell, Einstein. Above all it's about the question of what it means to be human and who gets to say – a question that is more urgent in the twenty-first century than ever before.
From eighth-century Baghdad to the frontiers of AI today, via medieval Europe, nineteenth-century India and Soviet Russia, Magisteria sheds new light on this complex historical landscape. Rejecting the thesis that science and religion are inevitably at war, Nicholas Spencer illuminates a compelling and troubled relationship that has definitively shaped human history.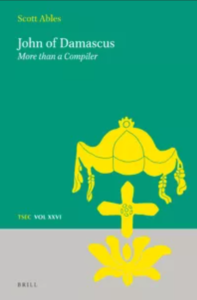 Scott Ables, ed. John of Damascus: More than a Compiler. 2023
John of Damascus, the eighth century theologian of the newly re-established Jerusalem Patriarchate, remains understudied because many consider him no more than a compiler of tradition, saying nothing original. We challenge this misconception by exploring ways in which John made his sources his own, his reception history, his biography, his philosophic appropriation and unique contribution, how he presented his theology in locally significant ways, his influence on subsequent generations, and all his varied theological output in both its historical context and as received in Byzantine tradition.
Finally, for staying up-to-date on the latest titles in all fields, we recommend regularly perusing New Books Network and its "New Books in Christian Studies" page. These pages are updated regularly.