Monthly Updates on Recent Books in the History of Christianity
To raise awareness of recent books in the history of Christianity, the editorial staff of Church History: Studies in Christianity and Culture highlights each month a list of 10-15 books in diverse periods and geographical regions that we hope will be of interest to our members.  We include here below the 36th monthly list, chosen by our staff, with excerpts from the publishers' blurbs.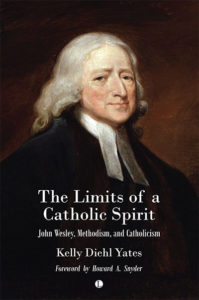 Kelly Diehl Yates, The Limits of a Catholic Spirit: John Wesley, Methodism, and Catholicism. 2023
The Limits of a Catholic Spirit fills the gap that is John Wesley and Catholicism. No other book has provided such an in-depth study of the perils Wesley faced when he encountered Catholicism. With the use of rare primary sources that tell of anti-Methodist riots in Ireland to Wesley's preachers getting kidnapped and forced to serve in the army, this study will provide you with historical information you've never encountered. It will explore questions that have held Wesley scholars captive for decades. Was John Wesley responsible for sparking the anti-Catholic Gordon Riots of 1780 in London? Kelly Diehl Yates searched eighteenth-century documents in the National Archives of the United Kingdom to find out. Was John Wesley aligned with the Jesuits? Was John Wesley a Jacobite, an enemy of the British Crown? Did John Wesley require Irish Catholics to denounce Catholicism to join Methodist societies? By the end of The Limits of a Catholic Spirit, you'll find answers to all these questions and more.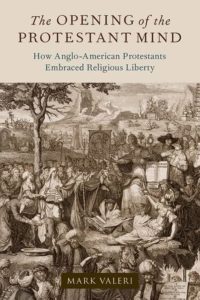 Mark Valeri, The Opening of the Protestant Mind: How Anglo-American Protestants Embraced Religious Liberty. 2023
During the mid-seventeenth century, Anglo-American Protestants described Native American ceremonies as savage devilry, Islamic teaching as violent chicanery, and Catholicism as repugnant superstition. By the mid-eighteenth century, they would describe amicable debates between evangelical missionaries and Algonquian religious leaders about the moral appeal of Christianity, recount learned conversations between English merchants and Muslim scholars, and tell of encounters with hospitable and sincere priests in Catholic Canada and Europe. What explains this poignant shift?
Using a variety of sources--travel narratives, dictionaries and encyclopaedias of the world's religions, missionary tracts, and sermons, The Opening of the Protestant Mind traces a transformation in how English and colonial American Protestants described other religions during a crucial period of English colonization of North America. After the English Revolution of 1688 and the subsequent growth of the British empire, observers began to link Britain's success to civic moral virtues, including religious toleration, rather than to any particular religious creed. Mark Valeri shows how a wide range of Protestants--including liberal Anglicans, Calvinist dissenters, deists, and evangelicals--began to see other religions not as entirely good or entirely bad, but as complex, and to evaluate them according to their commitment to religious liberty. In the view of these Protestants, varieties of religion that eschewed political power were laudable, while types of religion that combined priestly authority with political power were illegitimate. They also changed their evangelistic practices, jettisoning civilizing agendas in favor of reasoned persuasion.
Valeri neither valorizes Anglo-Protestants nor condemns them. Instead, he reveals the deep ambiguities in their ideas while showing how those ideas contained the seeds of modern religious liberty.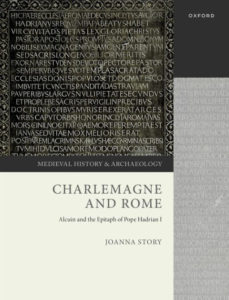 Joanna Story, Charlemagne and Rome: Alcuin and the Epitaph of Pope Hadrian I. 2023
Oxford University Press
Charlemagne and Rome is a wide-ranging exploration of cultural politics in the age of Charlemagne. It focuses on a remarkable inscription commemorating Pope Hadrian I who died in Rome at Christmas 795. Commissioned by Charlemagne, composed by Alcuin of York, and cut from black stone quarried close to the king's new capital at Aachen in the heart of the Frankish kingdom, it was carried to Rome and set over the tomb of the pope in the south transept of St Peter's basilica not long before Charlemagne's imperial coronation in the basilica on Christmas Day 800. A masterpiece of Carolingian art, Hadrian's epitaph was also a manifesto of empire demanding perpetual commemoration for the king amid St Peter's cult. In script, stone, and verse, it proclaimed Frankish mastery of the art and power of the written word, and claimed the cultural inheritance of imperial and papal Rome, recast for a contemporary, early medieval audience. Pope Hadrian's epitaph was treasured through time and was one of only a few decorative objects translated from the late antique basilica of St Peter's into the new structure, the construction of which dominated and defined the early modern Renaissance. Understood then as precious evidence of the antiquity of imperial affection for the papacy, Charlemagne's epitaph for Pope Hadrian I was preserved as the old basilica was destroyed and carefully redisplayed in the portico of the new church, where it can be seen today.
Using a very wide range of sources and methods, from art history, epigraphy, palaeography, geology, archaeology, and architectural history, as well as close reading of contemporary texts in prose and verse, this book presents a detailed 'object biography', contextualising Hadrian's epitaph in its historical and physical setting at St Peter's over eight hundred years, from its creation in the late eighth century during the Carolingian Renaissance through to the early modern Renaissance of Bramante, Michelangelo, and Maderno.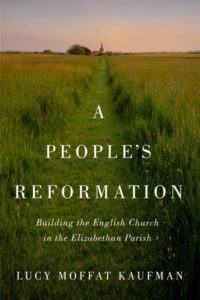 Lucy Moffat Kaufman, A People's Reformation: Building the English Church in the Elizabethan Parish. 2023
McGill-Queen's University Press
The Elizabethan settlement, and the Church of England that emerged from it, made way for a theological reformation, an institutional reformation, and a high political reformation. It was a reformation that changed history, birthed an Anglican communion, and would eventually launch new wars, new language, and even a new national identity. A People's Reformation offers a fundamental reinterpretation of the English Reformation and the roots of the Church of England. Drawing on archival material from across the United States and Britain, Lucy Kaufman examines the growing influence of state authority and the slow building of a robust state church from the bottom up in post-Reformation England. Situating the people of England at the heart of this story, the book argues that while the Reformation shaped everyday lives, it was also profoundly shaped by them in turn. England became a Protestant nation not in spite of its people but through their active social, political, and religious participation in creating a new church in England.A People's Reformation explores this world from the pews, reimagining the lived experience and fierce negotiation of church and state in the parishes of Elizabethan England. It places ordinary people at the centre of the local, cultural, and political history of the Reformation and its remarkable, transformative effect on the world.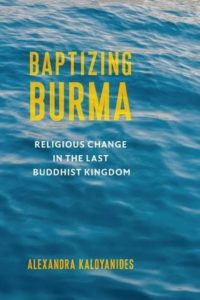 Alexandra Kaloyanides, Baptizing Burma: Religious Change in the Last Buddhist Kingdom. 2023
In July 1813, a young American couple from Boston arrived in Rangoon to preach the gospel. Celebrated in the Protestant press, which ran dramatic accounts of exotic adventures, the attempt to convert the Burmese met with mixed results. Although Burmese Buddhists resisted Christian evangelism, people from minority communities were baptized in large numbers throughout the nineteenth century. American Baptist Christianity was itself transformed in the Buddhist kingdom. Missionaries who were initially horrified by what they saw as the idolatry of Buddha statues found themselves creating tree shrines and their converts hanging colorful Jesus paintings in their churches.
Baptizing Burma explores the history of how the American Baptist mission to Burma failed to convert the country yet succeeded in transforming its religious landscape. Alexandra Kaloyanides examines how the Burmese majority positioned Buddhism to counter Christianity, how marginalized groups took on Baptist identities, and how Protestantism was reimagined as a Southeast Asian religion. She considers a series of holy objects to reveal the mechanics of religious practice in a period of entangled empires—British, Burmese, and American. By telling stories of four key things—the sacred book, the school house, the pagoda, and the portrait—this book illuminates the histories of Burma's last kingdom and the unexpected consequences of America's first overseas mission.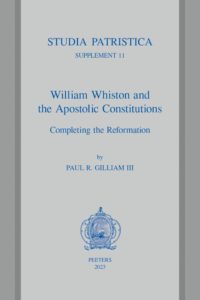 P.R. Gilliam III, William Whiston and the Apostolic Constitutions: Completing the Reformation. 2023
Written in the wake of Maurice Wiles' Archetypal Heresy: Arianism through the Centuries, this book narrates the gripping account of William Whiston's outsized affections for the Apostolic Constitutions. The Apostolic Constitutions, a collection of teachings concerning issues such as baptism, the eucharist, proper gender relations, and the ordination of bishops claim to have been given by the resurrected Jesus to his apostles during the forty days before his ascension back into the presence of God. In addition, the Apostolic Constitutions claim to have been gathered by Clement, understood to be the companion of the apostle Paul. Most scholars from Whiston's seventeenth- and eighteenth-century world concluded that the Apostolic Constitutions was not, in fact, apostolical, no matter its claims. The consensus today, perhaps unanimous even, is of a similar nature: the Apostolic Constitutions consists of church orders emerging from the second and third centuries that were then assembled sometime during the fourth century when the apostles' names, along with first-person pronouns, were added. William Whiston, however, concluded that the Apostolic Constitutions was the most sacred book of the New Testament. How then did William Whiston who, as the successor to Sir Isaac Newton as the Cambridge University Lucasian Professor of Mathematics, was a member of the intelligentsia of his day, come to such a conclusion? The pages of this book will answer this question. As the narrative unfolds it will become apparent that even though Whiston was wrong about the apostolicity of the Apostolic Constitutions, he nevertheless made important contributions to patristic scholarship as well as, and perhaps most important, religious liberty for all persons. Furthermore, even though Whiston was mistaken about the centerpiece of his project to restore primitive Christianity, some readers will appreciate his sincere desire to bring the reformation work of Martin Luther and others to completion.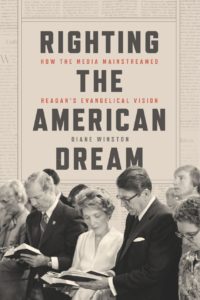 Diane Winston, Righting the American Dream: How the Media Mainstreamed Reagan's Evangelical Vision. 2023
After two years in the White House, an aging and increasingly unpopular Ronald Reagan looked like a one-term president, but in 1983 something changed. Reagan spoke of his embattled agenda as a spiritual rather than a political project and cast his vision for limited government and market economics as the natural outworking of religious conviction. The news media broadcast this message with enthusiasm, and white evangelicals rallied to the president's cause. With their support, Reagan won reelection and continued to dismantle the welfare state, unraveling a political consensus that stood for half a century.
In Righting the American Dream, Diane Winston reveals how support for Reagan emerged from a new religious vision of American identity circulating in the popular press. Through four key events—the "evil empire" speech, AIDS outbreak, invasion of Grenada, and rise in American poverty rates—Winston shows that many journalists uncritically adopted Reagan's religious rhetoric and ultimately mainstreamed otherwise unpopular evangelical ideas about individual responsibility. The result is a provocative new account of how Reagan together with the press turned America to the right and initiated a social revolution that continues today.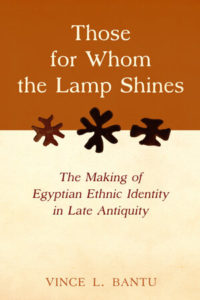 Vince L. Bantu, Those for Whom the Lamp Shines: The Making of Egyptian Ethnic Identity in Late Antiquity. 2023
University of California Press
In Those for Whom the Lamp Shines, Vince L. Bantu uses the rich body of anti-Chalcedonian literature to explore how the peoples of Egypt, both inside and outside the Coptic Church, came to understand their identity as Egyptians. Working across a comparative spectrum of traditions and communities in late antiquity, at the intersection of religious and other social forms of identity, Bantu shows that it was the dissenting doctrines of the Coptic Church that played the crucial role in conceptualizing Egypt and being Egyptian. Based on the study of neglected Coptic and Syriac texts, Those for Whom the Lamp Shines offers the only sustained treatment of ethnic and religious self-understanding in Africa's oldest Christian church.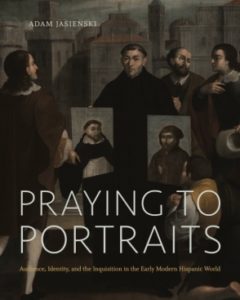 Adam Jasienski, Praying to Portraits: Audience, Identity, and the Inquisition in the Early Modern Hispanic World. 2023
Pennsylvania State University Press
In Praying to Portraits, art historian Adam Jasienski examines the history, meaning, and cultural significance of a crucial image type in the early modern Hispanic world: the sacred portrait.
Across early modern Spain and Latin America, people prayed to portraits. They prayed to "true" effigies of saints, to simple portraits that were repainted as devotional objects, and even to images of living sitters depicted as holy figures. Jasienski places these difficult-to-classify image types within their historical context. He shows that rather than being harbingers of secular modernity and autonomous selfhood, portraits were privileged sites for mediating an individual's relationship to the divine. Using Inquisition records, hagiographies, art-theoretical treatises, poems, and plays, Jasienski convincingly demonstrates that portraiture was at the very center of broader debates about the status of images in Spain and its colonies.
Highly original and persuasive, Praying to Portraits profoundly revises our understanding of early modern portraiture. It will intrigue art historians across geographical boundaries, and it will also find an audience among scholars of architecture, history, and religion in the early modern Hispanic world.
Andreas Loewe and Katherine Firth, Martin Luther and the Arts: Music, Images, and Drama to Promote the Reformation. 2023
Martin Luther was the architect and engineer of the Protestant Reformation, which transformed Germany five hundred years ago. In Martin Luther and the Arts, Andreas Loewe and Katherine Firth elucidate Luther's theory and practice, demonstrating the breadth, flexibility and rigour of Luther's use of the arts to reach audiences and convince them of his Reformation message using a range of strategies, including music, images and drama alongside sermons, polemical tracts, and his new translation of the Bible into German.
Extensively based on German and English sources, including often neglected aspects of Luther's own writings, Loewe and Firth offer a valuable survey for theologians, historians, art historians, musicologists and literary studies scholars interested in interdisciplinary comparisons of Luther's work across the arts.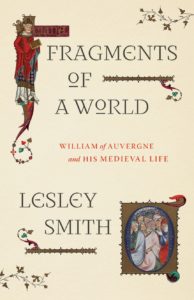 Lesley Smith, Fragments of a World: William of Auvergne and his Medieval Life. 2023
Today, William of Auvergne (1180?–1249) is remembered for his scholarship about the afterlife as well as the so-called Trial of the Talmud. But the medieval bishop of Paris also left behind nearly 600 sermons delivered to all manner of people—from the royal court to the poorest in his care. In Fragments of a World, Lesley Smith uses these sermons to paint a vivid picture of this extraordinary cleric, his parishioners, and their bustling world. The first modern biography of the influential teacher, bishop, and theologian, Fragments of a World casts a new image of William of Auvergne for our times—deeply attuned to both the spiritual and material needs of an ever-changing populace in the medieval city.
Finally, for staying up-to-date on the latest titles in all fields, we recommend regularly perusing New Books Network and its "New Books in Christian Studies" page. These pages are updated regularly.