Monthly Updates on Recent Books in the History of Christianity
To raise awareness of recent books in the history of Christianity, the editorial staff of Church History: Studies in Christianity and Culture highlights each month a list of 10-15 books in diverse periods and geographical regions that we hope will be of interest to our members.  We include here below the 22nd monthly list, chosen by our staff, with excerpts from the publishers' blurbs.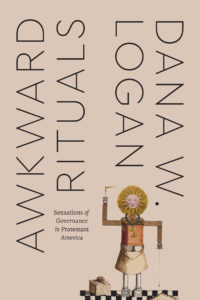 Dana W. Logan, Awkward Rituals: Sensations of Governance in Protestant America. 2022
A fresh account of early American religious history that argues for a new understanding of ritual.
In the years between the American Revolution and the Civil War, there was an awkward persistence of sovereign rituals, vestiges of a monarchical past that were not easy to shed. In Awkward Rituals, Dana Logan focuses our attention on these performances, revealing the ways in which governance in the early republic was characterized by white Protestants reenacting the hierarchical authority of a seemingly rejected king. With her unique focus on embodied action, rather than the more common focus on discourse or law, Logan makes an original contribution to debates about the relative completeness of America's Revolution.
Awkward Rituals theorizes an under-examined form of action: rituals that do not feel natural even if they sometimes feel good. This account challenges common notions of ritual as a force that binds society and synthesizes the self. Ranging from Freemason initiations to evangelical societies to missionaries posing as sailors, Logan shows how white Protestants promoted a class-based society while simultaneously trumpeting egalitarianism. She thus redescribes ritual as a box to check, a chore to complete, an embarrassing display of theatrical verve. In Awkward Rituals, Logan emphasizes how ritual distinctively captures what does not change through revolution.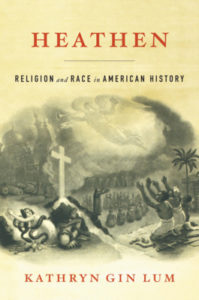 Kathryn Gin Lum, Heathen: Religion and Race in American History. 2022
An innovative history that shows how the religious idea of the heathen in need of salvation undergirds American conceptions of race.
If an eighteenth-century parson told you that the difference between "civilization and heathenism is sky-high and star-far," the words would hardly come as a shock. But that statement was written by an American missionary in 1971. In a sweeping historical narrative, Kathryn Gin Lum shows how the idea of the heathen has been maintained from the colonial era to the present in religious and secular discourses—discourses, specifically, of race.
Americans long viewed the world as a realm of suffering heathens whose lands and lives needed their intervention to flourish. The term "heathen" fell out of common use by the early 1900s, leading some to imagine that racial categories had replaced religious differences. But the ideas underlying the figure of the heathen did not disappear. Americans still treat large swaths of the world as "other" due to their assumed need for conversion to American ways. Purported heathens have also contributed to the ongoing significance of the concept, promoting solidarity through their opposition to white American Christianity. Gin Lum looks to figures like Chinese American activist Wong Chin Foo and Ihanktonwan Dakota writer Zitkála-Šá, who proudly claimed the label of "heathen" for themselves.
Race continues to operate as a heathen inheritance in the United States, animating Americans' sense of being a world apart from an undifferentiated mass of needy, suffering peoples. Heathen thus reveals a key source of American exceptionalism and a prism through which Americans have defined themselves as a progressive and humanitarian nation even as supposed heathens have drawn on the same to counter this national myth.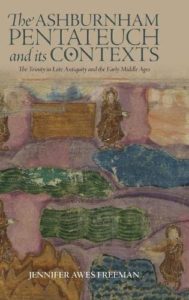 Jennifer Awes Freeman, The Ashburnham Pentateuch and Its Contexts: The Trinity in Late Antiquity and the Early Middle Ages. 2022
A fresh interpretation of an enigmatic illumination and its contexts.
The Ashburnham Pentateuch is an early medieval manuscript of uncertain provenance, which has puzzled and intrigued scholars since the nineteenth century. Its first image, which depicts the Genesis creation narrative, is itself a site of mystery; originally, it presented the Trinity as three men in various vignettes, but in the early ninth century, by which time the manuscript had come to the monastery at Tours, most of the figures were obscured by paint, leaving behind a single creator. In this sense, the manuscript serves as a kind of hinge between the late antique and early medieval periods. Why was the Ashburnham Pentateuch's anthropomorphic image of the Trinity acceptable in the sixth century, but not in the ninth?
This study examines the theological, political, and iconographic contexts of the production and later modification of the Ashburnham Pentateuch's creation image. The discussion focuses on materiality, the oft-contested relationship between image and word, and iconoclastic acts as "embodied responses". Ultimately, this book argues that the Carolingian-era reception and modification of the creation image is consistent with contemporaneous iconography, a concern for maintaining the absolute unity of the Trinity, as well as Carolingian image theory following the Byzantine iconoclastic controversy. Tracing the changes in Trinitarian theology and theories of the image offers us a better understanding of the mutual influences between art, theology, and politics during Late Antiquity and the early Middle Ages.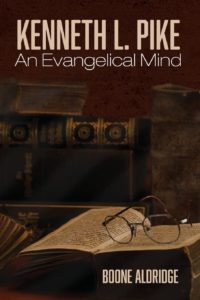 Boone Aldridge, Kenneth L. Pike: An Evangelical Mind. 2021
This biography examines the life of a most unusual twentieth-century evangelical, Kenneth L. "Ken" Pike (1912-2000), who served with the Wycliffe Bible Translators and the Summer Institute of Linguistics. Pike began his missionary career as a Bible translator, but he went on to become a world-class linguist who made his mark on the science of linguistics and the study of indigenous languages around the world. Known among linguists and anthropologists for his theoretical contributions, this volume seeks to bring Pike to a wider audience by illuminating his life as a key evangelical figure, one who often broke with conventional evangelical constraints to pursue the life of the mind as a Christian intellectual and scholar. Here is a story of how one evangelical Christian man served the global church, the scientific community, and the world's indigenous peoples with his entire heart, soul, and mind.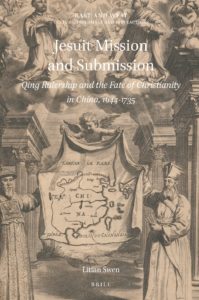 Litian Swen, Jesuit Mission and Submission: Qing Rulership and the Fate of Christianity in China, 1644-1735. 2021
Jesuit Mission and Submission explains how the Jesuits entered the Manchu world after the Manchus conquered Beijing in 1644. Supported by Qing court archives, the book discovers the Jesuits Manchu-style master-slave relationship with the Kangxi emperor. Against the backdrop of this relationship, the book reconstructs the back and forth negotiations between Kangxi and the Holy See regarding Chinese Rites Controversy (1705-1721), and shows that the Jesuits, although a group of foreign priests, had close access to Kangxi and were a trusted part of the Imperial circle. This book also redefines the rise and fall of the Christian mission in the early Qing court through key events, such as the Calendar Case and Yongzhengs prohibition of Christianity.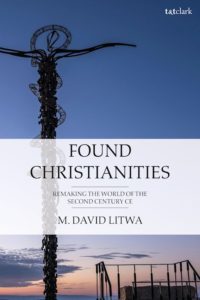 M. David Litwa, Found Christianities: Remaking the World of the Second Century CE. 2022
David Litwa tells the stories of the early Christians whose religious identity was either challenged or outright denied. In the second century many different groups and sects claimed to be the only Orthodox or authentic version of Christianity, and Litwa shows how those groups and figures on the side of developing Christian Orthodoxy often dismissed other versions of Christianity by refusing to call them "Christian". However, the writings and treatises against these groups contain fascinating hints of what they believed, and why they called themselves Christian.
Litwa outlines these different groups and the controversies that surrounded them, presenting readers with an overview of the vast tapestry of beliefs that made up second century Christianity. By moving beyond notions of "gnostic", "heretical" and "orthodox" Litwa allows these "lost Christianities" to speak for themselves. He also questions the notion of some Christian identities "surviving" or "perishing", arguing that all second century "Catholic" groups look very different to any form of modern Roman Catholicism.
Litwa shows that countless discourses, ideas, and practices are continually recycled and adapted throughout time in the building of Christian identities, and indeed that the influence of so-called "lost" Christianities can still be felt today.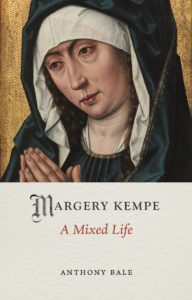 Anthony Bale, Margery Kempe: A Mixed Life. 2021
This is a new account of the medieval mystic and pilgrim Margery Kempe. Kempe, who had fourteen children, traveled all over Europe and recorded a series of unusual events and religious visions in her work The Book of Margery Kempe, which is often called the first autobiography in the English language. Anthony Bale charts Kempe's life and tells her story through the places, relationships, objects, and experiences that influenced her. Extensive quotations from Kempe's Book accompany generous illustrations, giving a fascinating insight into the life of a medieval woman. Margery Kempe is situated within the religious controversies of her time, and her religious visions and later years put in context. And lastly, Bale tells the extraordinary story of the rediscovery, in the 1930s, of the unique manuscript of her autobiography.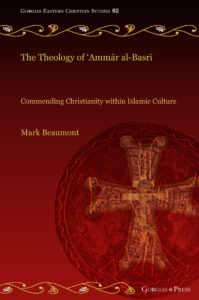 Mark Beaumont, The Theology of 'Ammār al-Basrī: Commending Christianity within Islamic Culture. 2021
ʿAmmār al-Baṣrī (d.c. 850) was the first Christian to write a systematic theology in Arabic, the language of the Muslim rulers of ʿAmmār's Middle East. This study of his two works that were only discovered in the 1970's seeks to analyse the way he defends Christian beliefs from criticism by Muslims over the authenticity of the Gospels, the Trinity, the divinity of Christ, the Incarnation, the death of Christ by crucifixion, the resurrection of Christ, and the nature of the afterlife. ʿAmmār al-Baṣrī wrote his theology in dialogue with Muslim thinkers of his time and his work offers guidance to Christians in today's world who live in Islamic contexts in how to relate Christian convictions to a Muslim audience.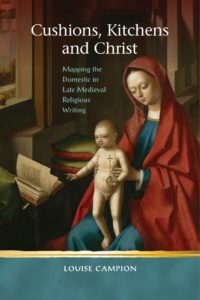 Louise Campion, Cushions, Kitchens and Christ: Mapping the Domestic in Late Medieval Religious Writing. 2022
This book represents the first full-length study of the prevalence of domestic imagery in late medieval religious literature. It examines as yet understudied patterns of household imagery and allegory across four fifteenth-century spiritual texts, all of which are Middle English translations of earlier Latin works. These texts are drawn from a range of popular genres of medieval religious writing, including the spiritual guidance text, Life of Christ, and collection of revelations received by visionary women. All of the texts discussed in this book have identifiable late medieval readers, which further enables a discussion of the way in which these book users might have responded to the domestic images in each one. This is a hugely important area of enquiry, as the literal late medieval household was becoming increasingly culturally important during the fourteenth and fifteenth centuries, and these texts' frequent recourse to domestic imagery would have been especially pertinent.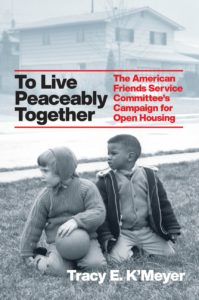 Tracy E. K'Meyer, To Live Peaceably Together: The American Friends Service Committee's Campaign for Open Housing. 2022
The bitterly tangled webs of race and housing in the postwar United States hardly suffer from a lack of scholarly attention. But Tracy K'Meyer's To Live Peaceably Together delivers something truly new to the field: a lively examination of a predominantly white faith-based group—the Quaker-aligned American Friends Service Committee (AFSC)—that took a unique and ultimately influential approach to cultivating wider acceptance of residential integration. Built upon detailed stories of AFSC activists and the obstacles they encountered in their work in Chicago, Philadelphia, and Richmond, California, To Live Peaceably Together is an engaging and timely account of how the organization allied itself to a cause that demanded constant learning, reassessment, and self-critique. K'Meyer details the spiritual and humanist motivations behind the AFSC, its members' shifting strategies as they came to better understand structural inequality, and how those strategies were eventually adopted by a variety of other groups. Her fine-grained investigation of the cultural ramifications of housing struggles provides a fresh look at the last seventy years of racial activism.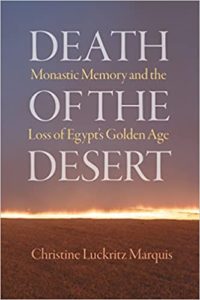 Christine Luckritz Marquis, Death of the Desert: Monastic Memory and the Loss of Egypt's Golden Age. 2022
University of Pennsylvania Press
In the late fourth century, the world of Christianity was torn apart by debate over the teachings of the third-century theologian Origen and his positions on the incorporeality of God. In the year 400, Archbishop Theophilus of Alexandria convened a council declaring Origen's later followers as heretics. Shortly thereafter, Theophilus banished the so-called Tall Brothers, four Origenist monks who led monastic communities in the western Egyptian desert, along with hundreds of their brethren. In some accounts, Theophilus leads a violent group of drunken youths and enslaved Ethiopians in sacking and desecrating the monastery; in others, he justly exercises his episcopal duties. In some versions, Theophilus' violent actions effectively bring the Golden Age of desert monasticism to an end; in others, he has shown proper respect for the desert fathers, whose life of asceticism is subsequently destroyed by bands of barbarian marauders. For some, the desert came to be inextricably connected to violence and trauma, while for others, it became a site of nostalgic recollection.
Which of these narratives subsequent generations believed depended in good part on the sources they were reading. In Death of the Desert, Christine Luckritz Marquis offers a fresh examination of this critical juncture in Christian history and brings into dialogue narrative strands that have largely been separated in the scholarly tradition. She takes the violence perpetrated by Theophilus as a turning point for desert monasticism and considers how monks became involved in acts of violence and how that violence came back to haunt them. More broadly, her careful attention to the dynamic relations between memory practices, the rhetorical constructions of place, racialized discourse, and language and deeds of violence speak to us in our own time.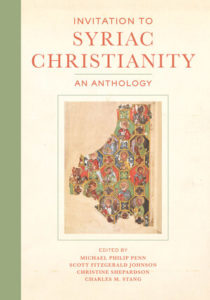 Michael Philip Jenn,  Scott Fitzgerald Johnson, Christine Shepardson, and Charles M. Stang, eds. Invitation to Syriac Christianity: An Anthology. 2022
University of California Press
Despite their centrality to the history of Christianity in the East, Syriac Christians have generally been excluded from modern accounts of the faith. Originating from Mesopotamia, Syriac Christians quickly spread across Eurasia, from Turkey to China, developing a distinctive and influential form of Christianity that connected empires. These early Christians wrote in the language of Syriac, the lingua franca of the late ancient Middle East, and a dialect of Aramaic, the language of Jesus. Collecting key foundational Syriac texts from the second to the fourteenth centuries, this anthology provides unique access to one of the most intriguing, but least known, branches of the Christian tradition.