Monthly Updates on Recent Books in the History of Christianity
To raise awareness of recent books in the history of Christianity, the editorial staff of Church History: Studies in Christianity and Culture highlights each month a list of 10-15 books in diverse periods and geographical regions that we hope will be of interest to our members.  We include here below the 25th monthly list, chosen by our staff, with excerpts from the publishers' blurbs.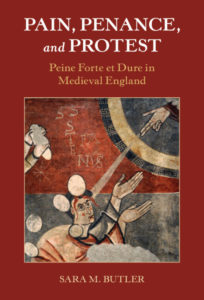 Sara M. Butler, Pain, Penance, and Protest: Peine Forte et Dure in Medieval England. 2022
In medieval England, a defendant who refused to plead to a criminal indictment was sentenced to pressing with weights as a coercive measure. Using peine forte et dure ('strong and hard punishment') as a lens through which to analyse the law and its relationship with Christianity, Butler asks: where do we draw the line between punishment and penance? And, how can pain function as a vehicle for redemption within the common law? Adopting a multidisciplinary approach, this book embraces both law and literature. When Christ is on trial before Herod, he refused to plead, his silence signalling denial of the court's authority. England's discontented subjects, from hungry peasant to even King Charles I himself, stood mute before the courts in protest. Bringing together penance, pain and protest, Butler breaks down the mythology surrounding peine forte et dure and examines how it functioned within the medieval criminal justice system.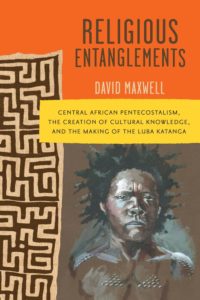 David Maxwell, Religious Entanglements: Central African Pentecostalism, The Creation of Cultural Knowledge, and the Making of Luba Katanga. 2022
Under the leadership of William F. P. Burton and James Salter, the Congo Evangelistic Mission (CEM) grew from a simple faith movement founded in 1915 into one of the most successful classical Pentecostal missions in Africa, today boasting more than one million members in the Democratic Republic of the Congo. Drawing on artifacts, images, documents, and interviews, David Maxwell examines the roles of missionaries and their African collaborators—the Luba-speaking peoples of southeast Katanga—in producing knowledge about Africa.
Through the careful reconstruction of knowledge pathways, Maxwell brings into focus the role of Africans in shaping texts, collections, and images as well as in challenging and adapting Western-imported presuppositions and prejudices. Ultimately, Maxwell illustrates the mutually constitutive nature of discourses of identity in colonial Africa and reveals not only how the Luba shaped missionary research but also how these coproducers of knowledge constructed and critiqued custom and convened new ethnic communities.
Making a significant intervention in the study of both the history of African Christianity and the cultural transformations effected by missionary encounters across the globe, Religious Entanglements excavates the subculture of African Pentecostalism, revealing its potentiality for radical sociocultural change.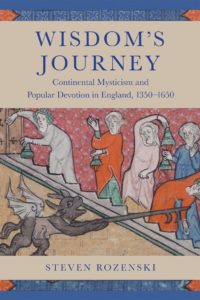 Steven Rozenski, Wisdom's Journey: Continental Mysticism and Popular Devotion in England, 1350-1650. 2022
University of Notre Dame Press
For many, Martin Luther's translation of the Bible into German has come to define the spirit of the Protestant Reformation. But there existed a host of devotional and mystical writings translated into the vernacular that had more profound impacts upon lay religious practices and experiences well into the seventeenth century. Steven Rozenski explores this devotional and mystical literature in his focused study of English translations and adaptations of the works of Henry Suso, Catherine of Siena, and Thomas à Kempis, and the common devotional culture manifested in the work of Richard Rolle.
In Wisdom's Journey, Rozenski examines the forms and strategies of late medieval translation, of early modern engagement with Continental medieval devotion, and of the latter's literary afterlives in English-speaking communities. Suso's Rhineland mysticism, the book shows, found initial widespread influence, translation, and adaptation followed by a gradual decline; Catherine of Siena's Italian spirituality saw continued use and retranslation in post-Reformation recusant communities paralleled by vehement denunciation by English Protestants; and Thomas à Kempis's Imitation of Christ attained a remarkably consistent expansion of popularity, translation, and acceptance among both Catholic and Protestant readers well into the nineteenth and twentieth centuries. Wisdom's Journey traces this path as it reshapes our understanding of English devotional and mystical literature from the 1400s to the 1600s, illuminating its wider European context before and after the Reformations of the sixteenth century. Written primarily for scholars in medieval mysticism, Reformation studies, and translation studies, the book will also appeal to readers interested in medieval studies and English literature more broadly.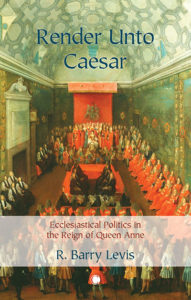 R. Barry Levis, Render Unto Caesar: Ecclesiastical Politics in the Reign of Queen Anne. 2022
Before Queen Anne's reign had even begun, rival factions in both Church and State were jostling for position in her court. Attempting to follow a moderate course, the new monarch and her advisors had to be constantly wary of the attempts of extremists on both sides to gain the upper hand. The result was a see-saw period of alternating influence that has fascinated historians and political commentators.
In this engaging new study, Barry Levis shows that although both parties claimed to be in support of the Church, their real aim was advancing their respective political positions. Uniting close analysis of Queen Anne's changing policies towards dissenters, occasional conformity and church appointments with studies of the careers of several prominent churchmen and politicians, Levis paints a gripping picture of competing religious values and political ambitions. Most significantly, he shows that, far from being restricted to the church and political elites, these conflicts were to have a cascading influence on the division of the country long after the Queen's reign ended.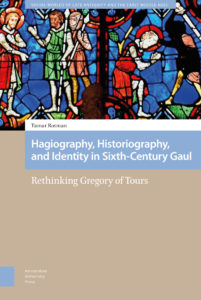 Tamar Rotman, Hagiography, Historiography, and Identity in Sixth-Century Gaul: Rethinking Gregory of Tours. 2021
Gregory of Tours, the sixth-century Merovingian bishop, composed extensive historiographical and hagiographical corpora during the twenty years of his episcopacy in Tours. These works serve as important sources for the cultural, social, political and religious history of Merovingian Gaul. This book focuses on Gregory's hagiographical collections, especially the Glory of the Martyrs, Glory of the Confessors, and Life of the Fathers, which contain accounts of saints and their miracles from across the Mediterranean world. It analyses these accounts from literary and historical perspectives, examining them through the lens of relations between the Merovingians and their Mediterranean counterparts, and contextualizing them within the identity crisis that followed the disintegration of the Roman world. This approach leads to groundbreaking conclusions about Gregory's hagiographies, which this study argues were designed as an "ecclesiastical history" (of the Merovingian Church) that enabled him to craft a specific Gallo-Christian identity for his audience.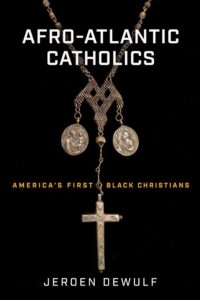 Jeroen Dewulf, Afro-Atlantic Catholics: America's First Black Christians. 2022
University of Notre Dame Press
Black Christianity in America has long been studied as a blend of indigenous African and Protestant elements. Jeroen Dewulf redirects the conversation by focusing on the enduring legacy of seventeenth-century Afro-Atlantic Catholics in the broader history of African American Christianity. With homelands in parts of Africa with historically strong Portuguese influence, such as the Cape Verde Islands, São Tomé, and Kongo, these Africans embraced variants of early modern Portuguese Catholicism that they would take with them to the Americas as part of the forced migration that was the transatlantic slave trade. Their impact upon the development of Black religious, social, and political activity in North America would be felt from the southern states as far north as what would become New York.
Dewulf's analysis focuses on the historical documentation of Afro-Atlantic Catholic rituals, devotions, and social structures. Of particular importance are brotherhood practices, which were critical in the dissemination of Afro-Atlantic Catholic culture among Black communities, a culture that was pre-Tridentine in nature and wary of external influences. These fraternal Black mutual-aid and burial society structures were critically important to the development and resilience of Black Christianity in America through periods of changing social conditions. Afro-Atlantic Catholics shows how a sizable minority of enslaved Africans actively transformed the American Christian landscape and would lay a distinctly Afro-Catholic foundation for African American religious traditions today. This book will appeal to scholars in the history of Christianity, African American and African diaspora studies, and Iberian studies.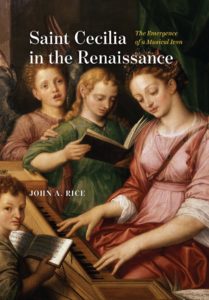 John A. Rice, Saint Cecilia in the Renaissance: The Emergence of a Musical Icon. 2022
Until the fifteenth century, Saint Cecilia was not connected with music. She was perceived as one of many virgin martyrs, with no obvious musical skills or interests. During the next two centuries, however, she inspired many musical works written in her honor and a vast number of paintings that depicted her singing or playing an instrument.
In this book, John A. Rice argues that Cecilia's association with music came about in several stages, involving Christian liturgy, visual arts, and music. It was fostered by interactions between artists, musicians, and their patrons and the transfer of visual and musical traditions from northern Europe to Italy. Saint Cecilia in the Renaissance explores the cult of the saint in Medieval times and through the sixteenth century when musicians' guilds in the Low Countries and France first chose Cecilia as their patron. The book then turns to music and the explosion of polyphonic vocal works written in Cecilia's honor by some of the most celebrated composers in Europe. Finally, the book examines the wealth of visual representations of Cecilia especially during the Italian Renaissance, among which Raphael's 1515 painting, The Ecstasy of Saint Cecilia, is but the most famous example. Thoroughly researched and beautifully illustrated in color, Saint Cecilia in the Renaissance is the definitive portrait of Saint Cecilia as a figure of musical and artistic inspiration.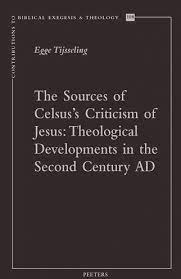 Egge Tijsseling, The Sources of Celsus's Criticism of Jesus: Theological Developments in the Second Century AD. 2022
This book is about what Celsus wrote about Jesus in the Second Century, what Celsus's image of God was like, and especially where Celsus found the ammunition to criticize Jesus so fiercely. Why did Christianity's growth bother a pagan philosopher, who was committed to Roman religion? Why did it bother a Platonic philosopher, although Christianity was never meant to be a philosophy? Egge Tijsseling explores the idea that Christians finished the Roman Empire, because they did not want to join the army - Jesus preached nonviolence, and if they did join the army, they only recruited more Christians, and finally because Christianity was "soft", and therefore attractive for many in the strict and hierarchic Roman world. This book investigates Celsus' reasons to write such a versatile book against Jesus, that Origen almost a century later needed eight books to refute him.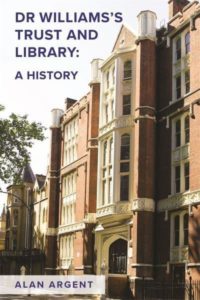 Alan Argent, Dr William's Trust and Library: A History. 2022
The library contains the fullest collection of material relating to English Protestant Dissent. Opening in the City of London in 1730, it moved to Bloomsbury in the 1860s. Williams and his first trustees had a vision for Protestant Dissent which included maintaining connections with Protestants overseas. The charities espoused by the trust extended that vision by funding an Irish preacher, founding schools in Wales, sending missionaries to native Americans, and giving support to Harvard College. By the mid-eighteenth century, the trustees had embraced unitarian beliefs and had established several charities and enlarged the unique collection of books, manuscripts and portraits known as Dr Williams's Library. The manuscript and rare book collection offers material from the sixteenth to the twentieth centuries, with strengths in the early modern period, including the papers of Richard Baxter, Roger Morrice, and Owen Stockton. The eighteenth-century archive includes the correspondence of the scientist and theologian Joseph Priestley. The library also holds several collections of importance for women's history and English literature. The story of the trust and library reveals a rare example of private philanthropy over more than three centuries, and a case study in dissenting enterprise. Alan Argent illuminates key themes in the history of nonconformity; the changing status of non-established religions; the voluntary principle; philanthropy; and a lively concern for society as a whole.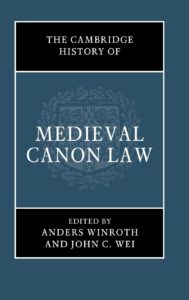 Anders
Winroth and John C. Wei, eds. The Cambridge History of Medieval Canon Law. 2022
Canon law touched nearly every aspect of medieval society, including many issues we now think of as purely secular. It regulated marriages, oaths, usury, sorcery, heresy, university life, penance, just war, court procedure, and Christian relations with religious minorities. Canon law also regulated the clergy and the Church, one of the most important institutions in the Middle Ages. This Cambridge History offers a comprehensive survey of canon law, both chronologically and thematically. Written by an international team of scholars, it explores, in non-technical language, how it operated in the daily life of people and in the great political events of the time. The volume demonstrates that medieval canon law holds a unique position in the legal history of Europe. Indeed, the influence of medieval canon law, which was at the forefront of introducing and defining concepts such as 'equity,' 'rationality,' 'office,' and 'positive law,' has been enormous, long-lasting, and remarkably diverse.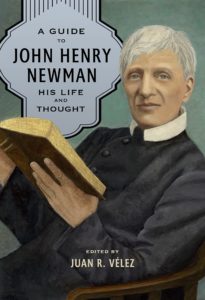 Juan R. Vélez, ed. A Guide to John Henry Newman: His Life and Thought. 2022
Catholic University of America Press
John Henry Newman (1801-1890), renowned thinker and writer, Anglican clergyman and later Roman Catholic priest and cardinal, has had a lasting influence on both Anglicans and Catholics, in the fields of literature, education, and theology. On October 13, 2019, Pope Francis declared him a saint in Rome.
Appealing to both the student and the scholar, A Guide to John Henry Newman provides a wide range of subjects on Newman's life and thought relevant for our times and complementary to biographies of Newman. The contributors include authors from many different disciplines such as theology, education, literature, history, and philosophy, highlighting the wide range of Newman's work. These authors offer a positive assessment of Newman's thought and contribute to the discussion of the recent scholarship of others.
A Guide to John Henry Newman will interest educated readers and professors alike, and serve as a text for college seminars for the purpose of studying Newman.