Virtual Faculty Seminar: Theological Encounters of Race, Antisemitism, and the Holocaust in Transatlantic Context
June 17-24, 2022 – United States Holocaust Memorial Museum (USHMM)
Applications due April 18, 2022
The United States Holocaust Memorial Museum announces the call for applications for the 2022 Annual Faculty Seminar on Ethics, Religion, and the Holocaust entitled "Theological Encounters of Race, Antisemitism, and the Holocaust in Transatlantic Context." This year's Seminar will examine the multifaceted encounters between Black American Christians and Jews in both the United States and Europe from the 1920s to the present. We will consider both the personal interactions and trans-Atlantic
experiences of Black Christians and Jews in the years before, during, and after the Holocaust, as well as the transnational circulation of ideas that shaped Christian and Jewish theological understandings of and responses to persecution.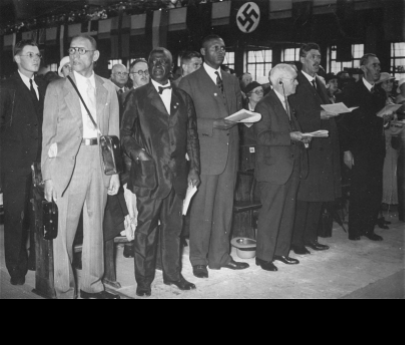 Seminar Leaders
Dr. Beverly Mitchell – Professor of Systematic Theology and Church History, C.C. Goen and Douglas R. Chandler, Church History Chair at Wesley Theological Seminary, Washington, DC
Dr. Benjamin Sax – Jewish Scholar at the Institute for Islamic, Christian, and Jewish Studies, Baltimore, MD
Seminar Format
The seminar will be conducted entirely online through a combination of synchronous and asynchronous elements. Participants can expect to attend no more than four hours of synchronous sessions in the virtual classroom per day (June 17; 21-24, 2022). Additional daily asynchronous activities will include independent readings, pre-recorded lectures, and online forums.
Eligibility
Applications are welcome from professors, instructors, and advanced doctoral students who are currently teaching or preparing to teach courses that could potentially integrate the Holocaust and related topics
into their lectures, assignments, activities, or campus events (teaching an entire course on the Holocaust is not required). Clergy and religious professionals who are engaged in adult Christian education or part-time teaching will be considered.
Applications must be submitted by April 18th. Letters of support may be uploaded electronically or
sent directly to Julia Liden, Program Coordinator, at jliden@ushmm.org. More information can be found on the USHMM website.